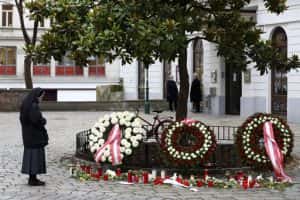 FOLLOWING the Monday shooting in Vienna by a suspected "Islamic terrorist" which has left four people dead, the UK's current threat level has been raised from substantial to severe.
This means that an attack is "highly likely".
Home Secretary Priti Patel has stated on Twitter: "The public should continue to remain vigilant and report any suspicious activity to the police."
She has also said: "The British public should be alert but not alarmed and this is a precautionary measure following the terrible incidents we have seen in France last week and the events we saw in Austria last night.
"The first and most important duty of the Government is obviously to protect the British public and we are doing that and will continue to do that through the measures and tools we have put in place in terms of dealing with terrorists and terrorist activity.
"At this particular stage, if the public has any concerns I would ask that they report anything of concern that they may have to the police.
"But as I have said, this is a precautionary measure in light of recent events we have seen."
The national Threat Level is assessed by the Joint Terrorism Analysis Centre, a department of MI5.
The incident in Vienna comes less than a week after three people were killed in a church stabbing in France.
This is a breaking news story and will be updated accordingly.