HERE'S a round-up of today's latest news on the coronavirus pandemic from around the UK.
Tier 3?
Political leaders in the North East are scheduled to meet on Thursday afternoon to discuss whether the region should be placed in Tier 3 coronavirus restrictions.
They have previously stated their opposition to the idea, saying coronavirus cases had stabilised and the NHS locally could cope.
National lockdown to be resisted
Communities Secretary Robert Jenrick said coronavirus rates are in a "bad place" all over the country but said the Government is resisting another national lockdown.
He told Sky News: "We will continue with our localised but proportionate approach on taking action where the virus is strongest but you can see from those figures that the virus is in a bad place in all parts of the country.
"The approach of trying to bear down on it where it is most concentrated I think continues to be the best way forward because despite the fact the virus is rising across the country it is very concentrated in some places nonetheless."
Jenrick later said the Government's "very firm view" is that a short national "circuit-breaker" lockdown would be the wrong approach, saying "you can't have a stop-start country".
He told Sky News: "We don't want to create a second national lockdown. We know that has some effect on bearing down on the virus but we also know it's immensely disruptive in other regards to people's lives and livelihoods and broader health and wellbeing, so we will do everything we can to avoid that situation."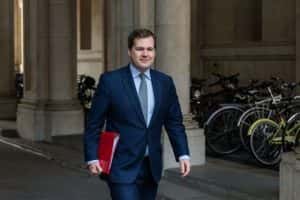 Mr Jenrick said the new lockdowns in other European nations, including France, will have "long-term scarring effects" on people.
He added: "At the moment it is our very firm view that that is not the right approach for the country, it is not a short-term measure, it is likely to be for a number of weeks.
"If it succeeded it is likely then needed to be repeated regularly – you can't have a stop-start country where businesses are closing, people are losing their jobs, then they are having to restart again, the harm to people's mental health and broader wellbeing, I think, would be immense."
More needs to be done
Professor Paul Elliott, director of the React programme at Imperial from the School of Public Health, said more needs to be done to reduce "very high" levels of Covid-19 in the north of England.
"I think we have to do something more now to really try and certainly reduce the very high levels that we are seeing in parts of the north of the country," he told BBC Breakfast.
Asked if this meant tighter restrictions than Tier 3, the current most severe level, he replied: "Tier 3 has variable restrictions even within Tier 3.
"Whether it's tighter restrictions or it's just a change in behaviour of the population, whatever it is we have to aim to get down that R value and we have to aim to get down the numbers. Because at the moment, the numbers are too high."
Lockdown restrictions have worked
WHO special envoy Professor David Nabarro said coronavirus is spreading with a surprising ferocity but lockdown restrictions have slowed the spread in the North of the UK.
Discussing the situation in Europe, he told BBC Radio 4's Today programme: "This virus has been picking up extraordinary energy over the last three or four weeks and it is indeed surprising just how ferocious the current surges have become."
Prof Nabarro said the UK has "apparently been able to slow the spread in some parts of the North of the country through very effective local action".
"What that's led to is a sort of levelling up and it seems that southern parts of the UK are speeding up," he said.
National restrictions?
Government scientific adviser Dr Mike Tildesley has said more national restrictions are needed, with the current trajectory likely to put nearly everywhere in Tier 2 before Christmas.
The University of Warwick researcher, who sits on the Scientific Pandemic Influenza Group on Modelling (Spi-M), told BBC Radio 4's Today programme: "We are seeing the R number is greater than 1 everywhere, and in a sense some kind of national lockdown, a circuit-breaker, or something along those lines, would actually have more effect in those parts of the country that have not yet progressed into Tier 2.
"R is greater than 1 everywhere and if we don't take urgent action we're most likely to see that as we're approaching the festive period we're probably going to be at least in Tier 2 pretty much everywhere in the country.
"So really we need to move away from these regional firefighting techniques to try to move to something more national."