HERE'S a round-up of today's latest news on the coronavirus pandemic from around the UK.
Burnham igniting Twitter debate
Manchester Mayor Andy Burnham responded to Conservative MP Chris Clarkson's request that Mr Burnham should now let local MPs and council leaders attempt to get a settlement.
Mr Clarkson said the Government offered to give Manchester "92% of what you asked for, with a settlement of an additional £60m funding, you decided the best option was to walk away having secured absolutely nothing."
You haven't got this quite right Chris.

We asked for £90m – which is the cost of an 80% furlough & self-employed scheme.

We were offered £60m – 66% of our ask, the same that pub staff in Heywood & Middleton are deemed to be worth.

You can vote to change that today. Will you? https://t.co/vFdn9SGYJN

— Andy Burnham (@AndyBurnhamGM) October 21, 2020
Mr Burnham tweeted in response: "You haven't got this quite right Chris.
"We asked for £90m – which is the cost of an 80% furlough & self-employed scheme.
"We were offered £60m – 66% of our ask, the same that pub staff in Heywood & Middleton are deemed to be worth.
"You can vote to change that today. Will you?"
South Yorkshire heading toward tier 3
Communities Secretary Robert Jenrick said on Sky News that he hoped the Government is "on the cusp of an agreement with South Yorkshire".
He was asked why the Government and Greater Manchester leaders were "squabbling" over £5 million.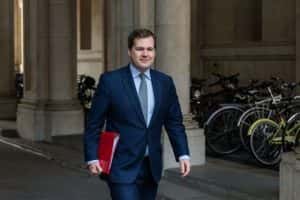 He told Sky News: "It wasn't just about £5 million. We had dozens of conversations. I'm afraid, I'm not going to get into a point-scoring argument, but we simply were not able to reach agreement.
"The mayor and local leaders were not willing to agree to the package of support that we wanted to put in place."
Mr Jenrick also denied that Andy Burnham had to find out the latest news live on television.
"He didn't," he said, adding: "I phoned him and told him."
Mr Jenrick said he told Mr Burnham "the final news" at 2pm on Tuesday.
Jenrick and Burnham at loggerheads 
Mr Jenrick has said talks with Greater Manchester mayor Andy Burnham broke down because he had insisted on preferential treatment for the region.
"The mayor of Greater Manchester was never willing to draw this to a conclusion. The public health situation was deteriorating," Mr Jenrick told the Radio 4 Today programme.
"It would have frankly been irresponsible of the Government to allow this to continue for many more days without bringing it to a conclusion.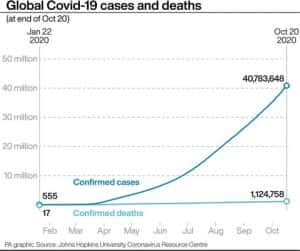 "In a meeting with the Prime Minister, the Prime Minister offered £55 million, Andy Burnham asked for £65 million. The Prime Minister said: 'Look, let's just compromise, and get this done for the sake of people in Greater Manchester."
"Andy Burnham wasn't willing to, so we had to take action."
The 1.4 million people in South Yorkshire joining the Liverpool City Region, Greater Manchester and Lancashire in Tier 3 means 7.3 million people, or 13% of England's population, will now be living under the toughest restrictions.
The agreement with the Government is worth £41 million, including £30 million to support the region's businesses, and £11 million for councils to support measures such as test and trace.
North East death rate triples
Covid-19 deaths have tripled in a fortnight in the North East, according to latest figures.
In the week ending October 9, there were 61 Covid-19-related deaths across the region, according to the Office for National Statistics. That compares to 54 the week before, and 17 the week before that.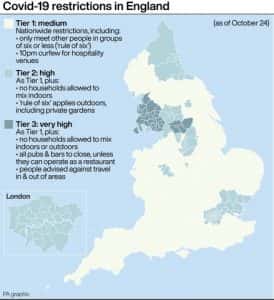 The numbers for the week ending October 9 include 40 deaths in hospitals, a rise from 37 a week before, and 20 deaths in care homes, up from 16.
The figures are based on the number of deaths registered up to October 17, where Covid-19 is mentioned on the death certificate.
Overall, there have been 2,998 deaths across our region involving Covid-19 between the start of the outbreak and October 9. Of those, most (1,553) took place in hospital, with 1,322 in care homes.
There were also 82 deaths recorded at home, 28 in hospices, eight in other communal establishments, and five elsewhere.
10% of people experiencing suicidal thoughts
One in 10 people had experienced suicidal thoughts by the end of the first six weeks of lockdown, according to new research.
The study, which looked at three "waves" of lockdown between March 31 and May 11, found the restrictions had a major impact on the UK population's mental health.
It found young people, women, those from more socially disadvantaged backgrounds and individuals with pre-existing mental health problems reported the worst mental health outcomes in the initial phase of the national restrictions.
The research, led by the University of Glasgow, found suicidal thoughts increased over the first six weeks of lockdown, with one in 10 people reporting them (9.8%) by the end of this period.
Gyms to reopen in Liverpool
Liverpool City Region metro mayor Steve Rotheram told BBC Radio Merseyside that gyms in the area would be allowed to reopen under Tier 3 restrictions.
He asked for scientific evidence on why they were ordered to close, following the announcement gyms in Lancashire would remain open in Tier 3.
Last week Government imposed Tier 3 restrictions on our region – forcing our gyms to close.

Since then we've been in constant dialogue to make them provide evidence for that decision – or reverse it.

They have now agreed to reverse their original decision and let gyms open. pic.twitter.com/AIoxK9gVNW

— Steve Rotheram (@MetroMayorSteve) October 21, 2020
Reading a statement on behalf of local leaders, he said: "Collectively, we have consistently requested the scientific evidence that supported the imposition of the suite of measures under Tier 3 and we pointed out the inconsistency of the approach following the announcement that Lancashire would not in fact have exactly the same package of restrictions as our city region.
"Talks continued until late last night and the Government have agreed with the case I put forward on behalf of city region leaders and that they would now bring us in line with other Tier 3 areas.
"This would mean soft play areas would be closed but gyms could reopen."