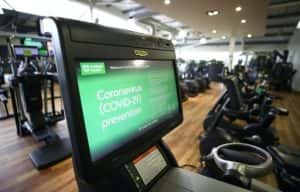 A SHORTAGE of home gym equipment in the North East could become more acute, as Tier 3 restrictions could soon be extended to the area, closing gyms and forcing everyone to work out at home once again.
Demand increases and prices soar
Demand for home gym equipment had increased so much during lockdown that "it's still very difficult to get" even today. Prices soared, with a premium set of interchangeable dumbbells selling for as much as £1000.
The initial lockdown came at a difficult time for Welsh Strongman competitor Jarrad Lewis, who was due to compete in April. Lewis, who currently works at Protein Superstore in Sunderland, said that he had to source kit from his home in Wales to keep training.
He spoke of how the cost per kilogram of weight rocketed, with an interchangeable set of dumbbells going for as much as £1000.
Robbie Johnson of Bodyzone on Sunderland High Street, said: "I think a lot of people stocked up then, it's still very difficult to get."
The lockdown period has allowed people more time to train at home. Johnson said he is "training a little bit more [than before lockdown]…[trying to] do something every day".
Tier 3 restrictions beckon
Director of Public Health for Newcastle, Professor Eugene Milne has warned that Tier 3 restrictions could be "inevitable" for the North East if infection rates don't "fall significantly".
Johnson, of Bodyzone, said: "I don't know if any of us know what tier three restrictions will bring but it's going to make it a bit quieter. We have just got to keep plodding away."
Despite the high demand for home gym equipment such as dumbbells and plates, as well as squat racks and benches, this has not always translated into more sales on the high street for other fitness-related products.
Instead, fitness enthusiasts have turned to online stores, as well as second hand selling websites, the latter often charging extortionate prices for the sought-after equipment.
Johnson said: "I don't think anything is selling well at the momen and the High Street is very quiet."
"I don't think anything really recovered after the first one [lockdown]. Since we entered the local lockdown, I think footfall has been a little bit down."
Meanwhile, Lewis said that Protein Superstore, on Fawcett Street, had saw business do rather well in lockdown since protein supplements are still a part of everyone's daily lives even when gyms close. There have even been new faces including foreign exchange students who have been visiting the store since then.