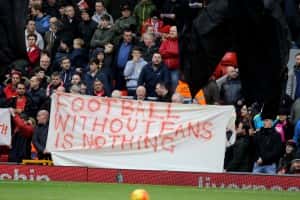 FOOTBALL clubs up and down the country have joined together to create a petition to get fans back into stadiums. 
All three major North East sides have shared the petition on their social media feeds, and over 180,000 fans have already signed up in support.
#LetFansIn https://t.co/rlTx8XyPo7

— Sunderland AFC (@SunderlandAFC) October 7, 2020
The petition is urging the government to reconsider allowing fans back in to the nation's football stadia to watch matches 'live'.
SR News spoke with prominent supporters of both Sunderland AFC and non-league side Blyth Spartans to get their reaction to the petition, and why it is needed.
Cath Reid, secretary for the Sunderland AFC Branch Liaison Council, runs a mental health hub on match days, and she says the impact of the ban goes deeper than just people beign unable to see their teams play.
She said: "I think that the mental health aspect of this hasn't really been considered by the authorities. 
"I have seen on social media that fans are saying their mental health is being gravely impacted by the loss of the matches, socialising and the positivity of having something to look forward to at the weekend. 
"We are now trying to set our mental health hub back up, so that we can help fans again."
Dan Rolls runs the Green Army supporters branch for Blyth Spartans, and agrees the authorities need to consider the mental health impact on fans of being barred from matches.
He said: "It is very difficult for me to even put into words how much I miss football and seeing my friends on a game day. 
"Over the years I have struggled sometimes with my mental health, and football was a great way for me to inject some positivity into my life. 
"If I am out with the lads all day, that can really pick me up and change my outlook on life."
While there are concerns over the negative effect on fans, there is also the fear that a return to stadiums could result in a spike of Covid-19 cases.
Damian Brown, a writer for Roker Report, sees both sides of the argument and said: "I understand that football fans lament the loss of the full spectacle. 
"You would have to be blind to fail to notice the impact that zero attendance can have on a match, and perhaps even the players themselves. 
"As something that we naturally associate with community and socialisation, the loss of that part of football is clearly deeply felt across the country. 
"In this sense I empathise with every football fan that wants a return to normality; if football is normal, then other things seem a little less strange, and for many fans football is an emotional outlet, with stadia being a place to call home."
He continued: "That all said, I can't wholeheartedly condone something that is demonstrably dangerous. 
"A hypocrisy, of course, exists in the seemingly arbitrary decision-making process from on high, as to who can do what and why, and that makes it doubly difficult for fans of football to simply accept that their sport – unlike grouse hunting or being wealthy – is simply too dangerous. 
"Unfortunately, the fact that these double standards exist doesn't take away from the ongoing viral threat."
Mrs Reid has worked with Sunderland AFC to help create a safe experience for fans, and she believes football clubs have gone over and above to make sure fans are safe.
She said: "I have had meetings with people at the club, I have seen what they've done. 
"There is a one-way system, hand sanitising stations, a safe seating plan and they have made it so that you don't have contact with anybody you shouldn't. 
"In my opinion there is no risk in going to a stadium when they have vigorously adhered to the rules."
But with fans banned and clubs bound by strict rules, there is frustration that while ministers have decided football grounds are dangerous, other social gathering venues (such as cinemas) have been allowed to continue.
Mr Rolls said: "It just doesn't seem logical to me. You can watch a Premier League football match in a cinema, but can't watch it in an outdoor stadium? It just doesn't make much sense."
And it isn't just cinemas, as pubs have been showing live matches, with fans meeting to support their team.
Mrs Reid argued that pubs are just as likely to spread Covid as any football match, saying: "How many pubs are advertising that they have the matches on? 
"So what is the difference between that and an open football stadium, with all sorts of protocols in place."
What is the answer then?
Well, Damian Brown from Roker Report believes government support is vital if football is going to have a prosperous future.
He said: "It is an industry with thousands upon thousands of employees depending on the existence of that game for a livelihood, but that livelihood should be supported by the government in the safest way possible.  
"It shouldn't be on the fans to risk their loved ones and the lives of strangers in order to keep it alive."
Do you think that the government should reconsider their stance around fans attending football matches?