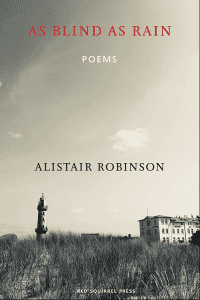 POET and University of Sunderland lecturer Alistair Robinson has launched his third collection of poetry.
"As Blind as Rain" is Alistair's third collection published by Red Squirrel Press, following Stereograms Of The Dead, published in 2009, and The Land Before Yoghurt, published in 2014.
His latest work follows themes he had addressed in his previous books, including the North East landscape, people and places.
Alistair said: "There are also poems about my experiences in Japan and France; there are some about veganism; there are some inspired by newspaper cuttings and receipts I found in a scrapbook which I bought from a market stall; there are some about a fabled land called Randomia!"
Alistair, who is a senior lecturer in Journalism at UoS, recently participated in the Sunderland Libraries Literature Festival 2020, held online this year due to the Covid-19 pandemic from October 1-10.
He said: "Any event which encourages people to read is really important at the present time. Reading can be such a great comfort; it can inspire, it can divert us from the troubles of life, it can also help us deal with the troubles of life."
Alistair has written poetry for many years. "I began to get published in the early 2000s. My first poetry book was a pamphlet, South Of Souter, published by Sand in 2003. The following year I won a Northern Promise Award for my poetry from New Writing North."
Alistair's new book, "As Blind As Rain" is out now – available to buy from www.redsquirrelpress.com