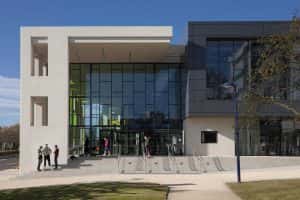 UNIVERSITY of Sunderland's city centre campus will open its Covid-19 test centre later this week, amid the continued rise of cases in the North East.
On Tuesday, the government announced 14,542 confirmed new cases nationwide – an increase of about 2,000 on Monday's figure.
Now, as the region continues to be among the worst-affected areas, three walk-in sites are to open in Sunderland, to improve accessibility to testing for Covid-19.
The first, in Johnson Street, Millfield, on UoS's City Campus, was due to open today (Wednesday 7 October) and be fully operational by Saturday.
A spokesperson for UoS said: "The University has worked closely with Sunderland City Council to bring a local testing site to Johnson Street car park on City Campus.
"This is the first of three walk-through testing sites that will open over coming weeks. The sites are designed to make it easier for Sunderland residents with Covid-19 symptoms to book a test, particularly those without access to a car.
"The new test centre will be fully operational by the 10 October. Testing is only available for those with coronavirus symptoms, and appointments must be booked through the national Covid-19 booking system."
Each of the sites, which are walk-through only, will be open from 8am to 8pm, seven days a week, once they are fully up and running.
Two other sites have yet to be confirmed, but are expected to be ready in the coming weeks. 
Health Minister Lord Bethell said: "We continue to expand testing to make sure that everyone with symptoms can get a test, with our new walk-in sites making it even easier no matter where you live.
"This new site forms part of our national testing network, which has the capacity to test more than a million people a week and is growing all the time.
"If you have symptoms of coronavirus, I urge you to book a test today and follow the advice of NHS Test and Trace if you are contacted, to protect others around you and stop the spread of the virus."
NHS England confirmed yesterday that there had been 355 Covid-related deaths recorded by Sunderland and South Tyneside NHS Foundation Trust. 
Data released by Public Health England yesterday (Tuesday 6) showed the total number of confirmed cases in South Tyneside and Sunderland to be 6,398 since the start of the pandemic.
UoS also confirmed another 41 cases yesterday, adding to their 44 from last week, for a running total of 85.
Baroness Dido Harding, interim executive chair of the National Institute for Health Protection, said: "Our new walk-through sites offer communities better access to coronavirus testing, so everyone with symptoms can get a test. This new site is part of our ongoing work to expand testing across the UK to deliver 500,000 tests a day by the end of October.
"Please book a test if you have coronavirus symptoms: a new continuous cough, a high temperature and a loss or change in sense of smell or taste.
"Everybody should continue to think 'hands, face, space', and follow the advice of NHS Test and Trace if you are contacted – this is the only way we can return to a more normal way of life."