In the last 10 years, the high street has faced serious cut backs, bringing with them the closure of many known brands as well as small independent stores that are filled with decades of history and a strong community atmosphere.
The retail market is extremely competitive, and brands are feeling the effects of modern-day consumerism. In difficult economic times, small businesses are often struggling to compete with larger high street chains where customers are choosing to shop online rather than face to face.
Independent stores are the root of our high-street and their success is down to their unique shopping experience built on family values.
Georgia Stanley, Northumbria fashion graduate and founder of vintage streetwear store, Waceland believes: "We are fortunate to have independent retailers which bring a different retail experience to the community.
"The intimacy and knowledge of an independent store can make the consumers feel a part of the store. I always thrive upon making customers feel valued and a part of the Waceland family. It is an extremely rewarding feeling to run an independent store in your home city and have such an overwhelming amount of support."
Newcastle is bursting with independent retailers who are offering  "a different retail experience to the community" says Georgia, who uses social media platforms to promote her store.
In order to adapt to modern times, stores must use social media in order to promote their stores and reach more customers.
"Waceland uses social media as our main promotional tool, including Facebook, Depop and RED but especially Instagram. We post all 'new in' products on these platforms that can be purchased in-store or via these channels directly" says Stanley.
Hidden gems of Newcastle's Independent stores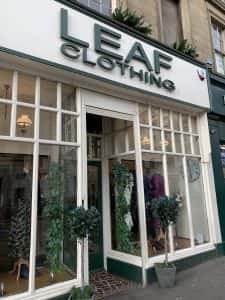 Leaf Clothing
This family run business was established in 1978 specialising in men's tailoring to customers across Newcastle. The store today offers a variety of brands from Scotch & Soda to European Culture and a tailoring service.
Find them at:
38-40 Pilgrim St, Newcastle upon Tyne NE1 6SE and online at https://www.leafclothing.co.uk/
Waceland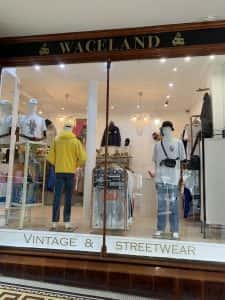 Waceland is an independent handpicked vintage and streetwear store based in Newcastle's Central Arcade. Waceland was first started in 2017 as a summer pop up shop on Grey Street and after a successful opening. In 2019, founder Georgia Stanley, a Fashion Design and Marketing graduate from Northumbria University decided to open a permanent store trading in vintage and streetwear in Unit 19A of the Central Arcade.
Find them at:  Unit 19, Central Arcade, Grainger St, Newcastle upon Tyne NE1 5BQ and online at www.waceland.com
    Geordie Gifts
Geordie gifts are situated in the famous Grainger market and are open Monday to Saturday 9:30am – 4:30pm. They specialise in Geordie themed cards, mugs, clothing, bags, homeware and souvenirs. They offer worldwide shipping on their website allowing for people to own a part of Newcastle's culture.
Find them at Grainger market, Alley 4, Newcastle upon Tyne NE1 5AE and online at www.geordiegifts.co.uk
Laura Lee Boutique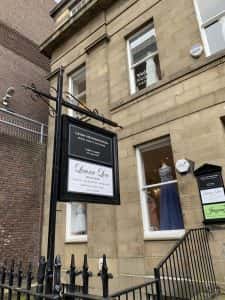 Laura Lea Boutique is an elegant store situated in Eldon Square, Newcastle which specialises in colourful prom gowns and evening wear including bridesmaid dresses and accessories. The store offers a shabby-chic interior with quirky detailing offering lots of hidden gems within the beautiful Georgian style building.
Find them at: 7, Old Eldon Square, Newcastle upon Tyne NE1 7JG and online at www.lauraleaboutique.co.uk
Scorpio Shoes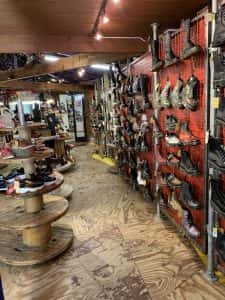 Established in 1960, Scorpio Shoes is a family owned independent footwear retailer based in North East England. They focus on offering customers fantastic shoes at great prices as well as fast and free UK delivery. They have a vast collection of shoes, trainers, boots and sandals from a selection of brand names all available under one roof. Visit them in store in the Grainger Market, Newcastle.
Find them at: Grainger Arcade, Newcastle upon Tyne NE1 5QE and online at www.scorpioshoes.com
Ellen Cosmetics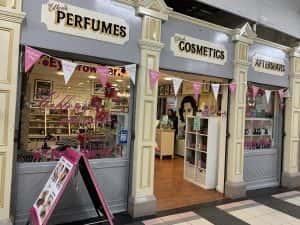 Ellen Cosmetics was founded over 20 years ago and their little shop offers a huge range of cut-price cosmetics, perfumes and aftershaves. They stock large brands including L'Oréal, Maybelline and Rimmel at fantastic prices offering the best deals for their customers.
In 2017 the store launched their first eyebrow and nail bar, offering everything from quick manicures to full sets of acrylic nails performed by a full qualified technician.
Find them at: 55, Grainger Market Arcade, Grainger St, Newcastle upon Tyne NE1 5QF and online at ellenscosmetics.co.uk
Bagnall & Kirkwood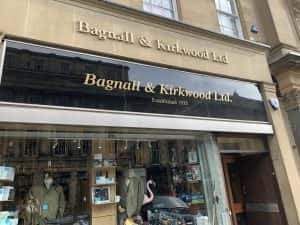 For over 75 years Bagnall and Kirkwood have been situated in the heart of Newcastle and are one of the largest outdoor stores in stores in the North East, focusing primarily on shooting and fishing. With a large range of stock and different brands in all categories from fishing, shooting and clothing there is something for everyone's needs.
Find them at: 28 Grey St, Newcastle upon Tyne NE1 6AE and online at bagnallandkirkwood.co.uk
Mr Wolf's children's store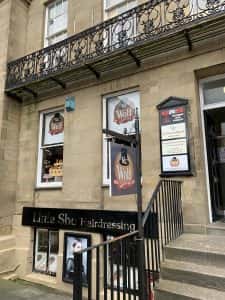 Mr Wolf officially opened his doors in October 2014 and their aim is to remain a high-street store but to make shopping more magical for children by offering toys and gifts that rely on imagination. As of 2018, Mr Wolf opened their second store in the heart of Newcastle at 5-6, Old Eldon Square, NE1 7JG. Now Open from 10.00am 18.00pm Monday to Saturday, it is another fantastic outlet where kids (and grown-ups!) can have a magical toy shop experience.
find them at: 5-6 Old, Eldon Square, Newcastle upon Tyne NE1 7JG and online at www.mrwolf.uk.com