As it gets closer to Christmas, and student loans are really starting to be stretched, eating out is something that most people can do without. However, when there's nothing in the fridge, where do you turn? Takeaway apps can put a big dent in your budget – especially when you order hungry and get that extra portion of spring rolls!
Too Good to Go is an app with a difference – it helps you to find food that would otherwise be going to waste at restaurants and cafes across the UK. For a knockdown price, you can get a tasty meal. So, you're saving money and tackling food waste at the same time! What's not to love?
In this post, let's take a look at 6 of the best places on Too Good to Go in Newcastle!
The Meat Locker – Grainger Market (Newcastle)
On paper (or your phone screen), The Meat Locker isn't the most attractive proposition on Too Good to Go – especially if you're vegetarian! The reason for that though, is that meals are usually reduced from around £9 to the £2.50 to £3 mark. Here, the saving is only from £6 to £3. But don't let that put you off! I picked up a delicious creamy chicken curry with plenty of spice and flavour. It was big enough to cover both lunch and dinner, and the ideal fuel for playing footy later that day! Pick up is between 3.30 – 4 pm.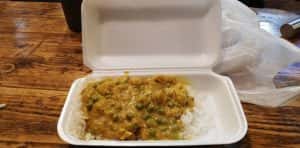 RISE Artisanal Bakery – Grainger Market (Newcastle)
Another great option in the Grainger Market. If you're looking for quantity, you can't do much better than RISE. My magic bag was made up of 3 huge loaves which I'd paid a measly £2.69 for. There were a few bags and it's luck of the draw what you get. I had a stottie, tomato focaccia (which my dad quickly snaffled), and some rye bread. The bakery is a great spot if you live in a big house share – there'll be enough for everyone's sandwiches and toast the day after.
Pick up is usually between 4.30 and 5 pm, just before the Grainger Market closes.
Baltic Kitchen – Gateshead
As much as I love the Baltic for its contemporary art and awesome gift shop, I've never really bothered with the café. I always had the idea it would be overpriced – but picking up one of their bags at the end of the day certainly isn't.
For £3 each, I got 2 magic bags with a croissant, and a fruit and cheese scone in each. My initial thought was that if I'd paid full price for this bag, I'd feel short-changed. However, the scones were super filling! Pick up is usually between 4 pm and 5.30 pm.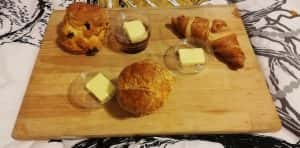 Royal Station Hotel – Newcastle Central Station
One of the best things about going on holiday is hotel breakfasts (shut up, yes, it is). Well, you don't even need to go away to pick up an absolutely huge full English on Two Good to Go. Hash browns, sausages, bacon, mushrooms, and beans all provided the heft in their magic box. Perfect if you've got a mid to late morning train. The train station is the best place to eat it, especially when the weather is grim. Pick up is between 9.30 and 10 am.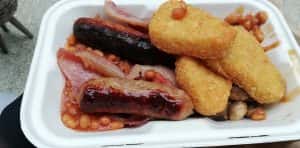 Feelgoodfood – Newburn Riverside
A bit out of Newcastle City Centre, but this one is well worth it if you have a bus pass. The café closes in the early afternoon, so it's great if you have an early finish. I got a crazy amount of food, and the best thing is that their paninis are wrapped so you can save them for later or freeze them. Although it's a trek, your £3 magic bag more than pays for itself! Pick up is between 2 – 2.30 pm.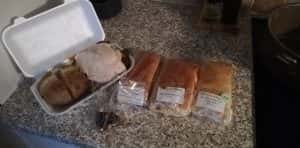 Pizza Punks, Grey Street – Newcastle
 Fancy a takeaway pizza? The downside is you do have to plan in advance, but Pizza Punks magic bags are much better than your standard greasy takeaway around the corner. Take a friend and get two magic bags – if you're lucky you'll get pizza and sides too. The only complaint is that chicken wings and mac 'n' cheese aren't the best things to reheat! Pick up is between 9 – 9.30 pm.