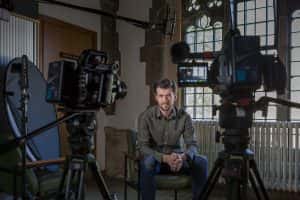 Two graduate filmmakers are proving to be among the UK's most promising young directors
Ciaran Charles O'Conghaile and Connor Langley both studied MA Film and Television at the University of Sunderland.
Now, the pair have each received a nomination in the prestigious national RTS – Royal Television Society – Student Television Awards 2019.
Ciaran's 15-minute film, Smoked Mackerel, is a coming-of-age short set in the director's home city of Galway, on Ireland's west coast. The 33 year old's film has been nominated in the Best Drama category.
Twenty-eight year old Connor's short from his series, A Very Uncommon Christmas, is nominated in the Comedy and Entertainment category.
Both students graduated last year and are already being earmarked for future success.
Speaking about Smoked Mackerel, Ciaran said: "I guess you could say it's a semi-auto biographical. It's about two friends – a boy and girl – who are just about to start secondary school. It looks at how friendships and relationships can fall apart."
For two of the six days of filming, Ciaran and his crew were stuck filming off the Galway coast on a boat.
"We had very little money and a skeleton crew, so we had to call in a lot of favours and cast actors from local schools," adds Ciaran. "They were raw but incredible during the shoot, which took place in August 2017."
Ciaran says the nomination came as a very pleasant surprise.
He added: "I was ecstatic. It's not just for me but the whole team who were amazing and talented, they worked so hard.
"We know we're going to be up against some tough opposition but we are really pleased that the film has been recognised."
The awards ceremony will take place on Friday, June 28 at the BFI Southbank in London.
Connor's nominated piece, A Very Uncommon Christmas is set in a bookies on Christmas Eve where bets are being taken on a zombie cage-fight. When robbers try to steal the takings, things take a turn for the worse.
Liking his film to a "comedy of errors", Connor, from South Shields, said: "It's amazing to be nominated. Interestingly, Ciaran, who is also nominated, is one of the actors in my film."
Both young filmmakers are full of praise for their MA programme at the University of Sunderland.
Ciaran, who now lives in Jesmond, Newcastle, added: "It was an incredible experience and we all learned so much."
Connor, who is currently working as an assistant producer at a Sunderland media company, is hoping to write more films in the coming years.
Gary Stubbs, Senior Lecturer in Media Production at the University of Sunderland, said: "We had our first national nomination a few years ago for drama and that was quite an achievement but to receive two nominations in the most entered categories is absolutely amazing and I couldn't be happier.
"It's a real testament to all the hard work that Ciaran, Connor and the crews put into the projects, they worked tirelessly throughout the entire MA programme to produce outstanding work. The other supervisors and I build a strong working relationship with the all the students on the programme and I think these nominations are a real reflection on all the hard work that lectures and students put into the MA programme.
"We will be attending the awards on June 28 to support the students and hopefully bring back a couple of awards."