Police across the region have launched a crackdown on people texting, taking photos and videos while driving. SR News has been investigating.
A Freedom of Information request sent to Durham Constabulary has shown the number of people caught on their mobile phones while driving has decreased in the last three years, yet still shows a total of 851 people since 2016.
Figures from the request show that the number of people caught on their mobile phones in the past three years has fallen: 364 in 2016, 316 in 2017 and 171 in 2018.
Police across Cleveland and Durham carried out 'Operation Ringtone' as part of a national clampdown on drivers using their mobile phones from September 17 this year. Forty-two drivers were caught using their mobile phones while driving during a week-long campaign.
A new law introduced in March 2017 means that drivers using a phone at the wheel will receive six penalty points and a £200 fine.
Inspector Jonathan Malcolm, from the Cleveland and Durham Specialist Operations Unit, said:
"It is always disappointing to find that anyone has risked their life and the lives of other innocent road users. Whether drivers are making calls, texting or going online, the risk is all the same and the chance of a collision is 25 times higher.
"We will continue these operations to identify offenders and we will educate wherever we can. Being distracted at the wheel is one of the four main contributory factors in fatal or serious road traffic collisions and it is an unnecessary risk to take."
Most notably, the Office for National Statistics found that from the period of 2011 to 2015, fixed penalty notices issued for 'use of a handheld mobile phone while driving' fell by 43 per cent over the same period.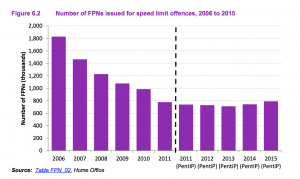 Photo by Office for National Statistics
Advice from police.uk tells us that using a mobile phone while driving means you are four times more likely to have a crash, and it is one of the biggest causes of accidents on Britain's roads.
Nick Lloyd, acting head of road safety at the Royal Society for the Prevention of Accidents, said: "While the figures are promising, there is still much work to do for a zero-tolerance approach to using a mobile phone while driving.
"Drivers who use a mobile phone are four times more likely to crash, injuring or killing themselves and other people. When using a mobile phone, a driver is distracted and is much less aware of what's happening on the road around them.
"We urge drivers to consider the potential consequences of using a mobile phone while they drive, it's simply not worth it."
Even though statistics and information reveal the number of people using mobile phones while driving are decreasing, an RAC report on motoring in 2016 found that 36 per cent of drivers aged 17 to 24 admitted to taking photos and videos at the wheel while driving. Meanwhile, 44 per cent of 17 to 24 year olds admitted to taking photos and videos at the wheel while in stationary traffic.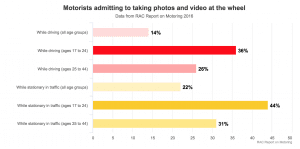 Photo from rac.co.uk
Figures from Northumbria Police's Police and Crime Plan quarterly performance report shows that 60 per cent of people think the use of mobile phones while driving is the biggest public concern. Action has been taken against 148 drivers for driving while using a mobile phone between April 2018 and June 2018.
Dr Hilary Jones, GP and medical broadcaster says: "Sometimes things happen and you have to react in a split second to save someone's life. Don't use your mobile phone at the wheel, turn it off, then you can't be tempted to text or take a phone call.
"If you have to pull over, turn your engine off and make the call then. Never do this on the road as this can cause multiple fatalities just as a result of someone using their phone at the wheel."
It is illegal to hold a phone or a satellite navigation system while driving or riding a motorcycle. You must have hands-free access, such as a Bluetooth headset, voice command, a dashboard holder, a windscreen mount or a built-in sat nav.
Members of the public can report repeat offenders anonymously by calling Crimestoppers on 0800 555111.