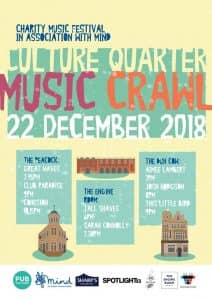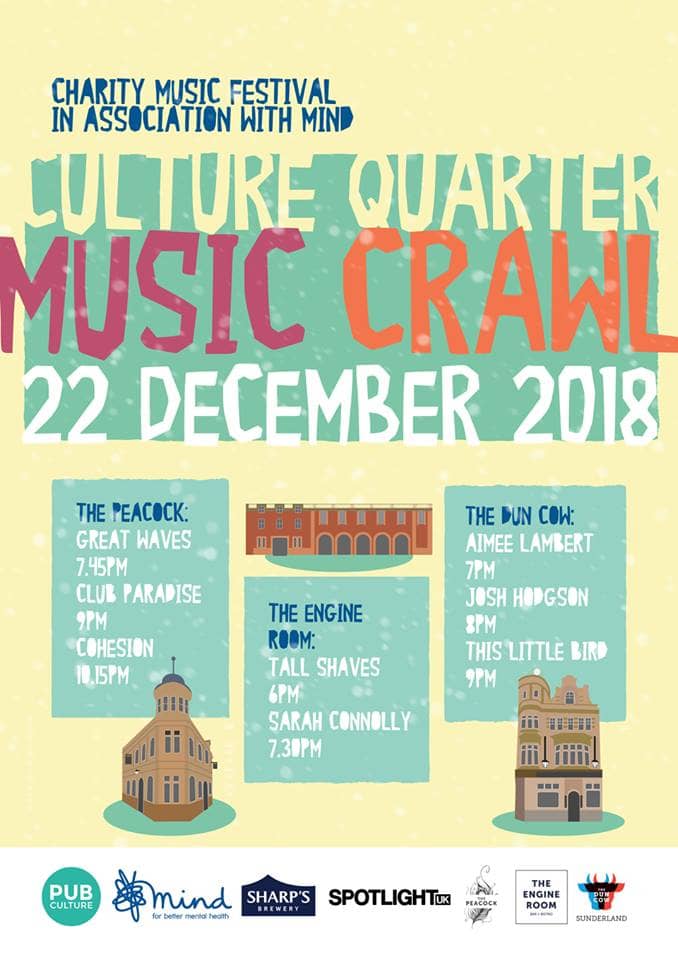 On December 22, 2018, Sunderland will host the Culture Quarter Music Crawl in a bid to raise money for mental health charity Mind. The event, hosted by Spotlight Music UK and Pub Culture, will feature a host of live performances from acoustic musicians and bands across three Sunderland pubs: The Dun Cow, The Engine Room and The Peacock.
Jordan Davidson, of Spotlight UK, said:  "We're organising this event in the hopes that it will raise money and awareness for a massively important local charity, as well as give some exposure to a bunch of great North East musicians.
"The culture quarter area of Sunderland holds so much potential and it's my hope that this will help kick-start an interest for more big events there in the coming years."
He also spoke about why the event is in aid of Mind, saying: "Mental health awareness has come a long way but charities like Mind still work extremely hard and I'm glad we have the opportunity to help in any way possible."
While entrance to The Dun Cow and The Engine Room is free, attendees will need a ticket to gain access to The Peacock, where the main acts will be performing. Tickets are priced at £5 with all proceeds from the tickets going to Mind and the artists performing. There will also be a raffle and collection boxes situated across the three venues for further public donations.
One of the acts performing is Sarah Connolly, an acoustic singer-songwriter, from Newcastle upon Tyne. Sarah, who is signed to Pillar Artists Management, has created her own definitive sound that combines elements of folk with pop and is eager to perform her original song 'Eye of a Bird'.
Sarah believes that the Music Crawl is important for the local scene here on Wearside, she said:
"The Culture Quarter Music Crawl is a great opportunity, not only for those performing, but also for the music scene of Sunderland, which is often overlooked in favour of Newcastle. Such a fantastic event shines the spotlight on Sunderland and reminds us all that underneath the surface is a music scene with heaps of potential."
"It also works perfectly for the Xmas period; with 2 of the 3 stages being free entry, it caters for everyone, whilst the third stage is still a bargain at £5 entry. It's well worth heading down early for doors too, as the whole line-up is incredible; many friends are playing such as Aimee Lambert, Tall Shaves, Josh Hodgson, This Little Bird and Great Waves to name a few – it's amazing to be part of such a phenomenal line-up."
Sarah also added her views on the topic of Mental Health, she said: "Mental Health is important all year round, but needs special attention in the cold, dark winter months when people can feel particularly isolated and vulnerable. It's especially relevant with all the attention of men's mental health as the biggest killer of men aged 20-34 in the UK is suicide – anything that helps to challenge the stigma and help support people and their mental health is great to be part of as it's such as great cause."
Aimee Lambert, another artist on the line-up gave her say on the upcoming event along with her pleasure of aiding a charity as helpful as Mind: "I'm really looking forward to playing at the culture quarter music crawl, I run the buskers at the Dun Cow, which is such a lovely pub! It will be great to play some of my original songs such as 'Is it Love' and also to see some of the other great musicians that are playing."
"It is great to see the event is in aid of Mind, it is so important to have good mental health and charities such as Mind are a lifeline for a lot of people."
Tickets to access The Peacock, the final venue of the Culture Quarter Music Crawl, can be purchased here.