Sunday saw a very emotional and happy goodbye to Helena and Verne, the two seals saved by Tynemouth's marine rescue team and taken care of at Blue Reef Aquarium.
Helena was found with multiple fishing hooks in her body and face and required immediate assistance by the rescue team; Verne was found alone and underweight. Luckily, Helena survived her injuries and after four months the team decided that they were in a healthy enough condition to go back out into their natural habitat.
Susie Webb, Display Supervisor for the aquarium, said:
"It's such a lovely experience. It's a lot of hard work and dedication to get them up to that fitness, so it's a really nice feeling to see them go back to where they're meant to be."
Unfortunately, because of the dog-like, inquisitive nature of seals, Susie says injuries are common. Plastic is a particular hazard and the key is to avoid more ending up in the ocean. Susie said: "Re-use any plastic if you have any at home, refuse any plastic straws and try to avoid any other plastic materials."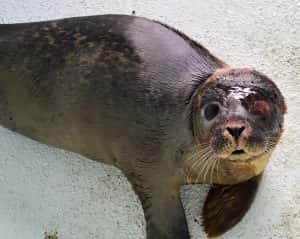 British Divers Marine Life Rescue, the team who initially rescued the seals before bringing them to Blue Reef Aquarium for rehabilitation, also witnessed their release. One member, Richard Ilderton, talked about the benefits of their link up with the aquarium. He said:
"It's a lot easier for us and a lot less stressful and more beneficial for the animals because they're not being shipped great distances.
"They're not getting overly stressed and we're keeping them nearby."