The University of Sunderland is welcoming back former work experience scholars as degree students.
The MediaHub, located in the David Puttnam building at St Peter's campus, is always a popular choice for work experience. Ben Robinson, now 18 and studying a BA in Sports Journalism, began his journey there on a four day placement while in sixth form. Ben said:
"I remember how differently they taught me to write compared to school. I learned how to be more concise with my articles.
"They also showed me the basic dos and don'ts of radio and involved me in workshops to see how practical and hands-on the course actually is. As well as that, some of the students were very helpful, showing me little previews of things, such as editing a video for a football club.
"I would recommend anyone looking to go into media or journalism to go to Sunderland University for work experience."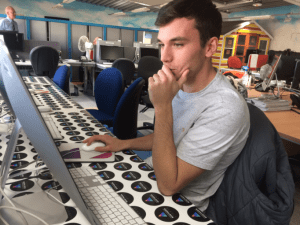 Ben has  been busy since starting his BA, having covered Sunderland Illuminations for SR News and basketball and Gateshead FC for Sportsbyte. He is already planning for the future. Ben said:
"I'm looking into linking up with a club in one of their media outlets, potentially in football or basketball  – whichever opportunity arises in the future, writing match reports and interviews.
"This only came to my mind because of the University, through speaking to someone doing that sort of role at Sunderland."
Lee Hall, head of school of media & communications, said:
"Deciding your future can be daunting. We encourage anyone considering a degree in journalism – or any media career – to get as much information as you can before you take the plunge.
"Our work experience programme in the mediaHUB gives a real taste of what it's like to thrive in a cutting edge newsroom. It's not for everyone, but – if you enjoy storytelling, being creative and breaking news in news, fashion, sport and entertainment – you will love the buzz."