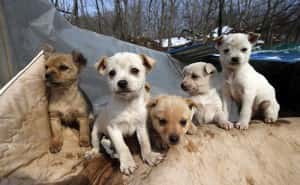 An online petition calling for the ban of the sale of puppies by pet shops and third-party dealers has gained widespread popularity among the nation and pet lovers.
The environment secretary Michael Gove announced that the government is considering a ban on the sale of puppies in pet shops, and he unveiled measures to crack down on unethical puppy breeders.
Jamie Broadbent, manager at Emerson's Pet Centre in Sunderland, said: "I support the ban when it comes to Gumtree sites but not on licensed premises.
"We have a license and we're inspected by the council, but people who sell them on third party websites are the problem. Unless they stop people from selling puppies off sites like Gumtree, it'll still carry on."
The Department for Environment, Food and Rural Affairs (DEFRA) launched a call for evidence on the ban. Last year, DEFRA concluded that a ban on third-party sales would lead to the creation of an illegal market.
Mr Broadbent said: "I don't think the ban would stop the creation of an illegal market, I think it would make it worse.
"People who are selling them illegally anyway will find a way round the ban because people will buy the dogs online for a cheaper price rather than going to a licensed breeder.
"A possible ban would mean if anyone wanted to buy a puppy they would have to go directly to the breeder with a license."
 Angela Garten, deputy manager at Sunderland Pets for Homes said: "People who want to buy a puppy but fear unlicensed breeders should go down the adoption route.
"Some pet stores sell animals for profit and they shipped in cramped containers and can often arrive injured. Whereas stores who offer animal adoption, take in abandoned animals and provide them with the best care."
Christian Tate, a student at the University of Sunderland said: "I got my dog Ralph when he was just a puppy from an animal shelter and it was the best decision I ever made.
I was aware of some of the horrible conditions animals sold in pet stores are in and I didn't want them to profit from that.
"Adopting gives your pet a new life while supporting shelters."
The petition on the ban has gained over 100,000 signatures which means it will be debated in Parliament on May 21