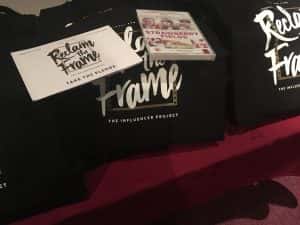 Birds' Eye View, a charity dedicated to female recognition in film, launched their new campaign 'Reclaim the Frame' at Newcastle's Tyneside Cinema on April 17.
The campaign is supported by the BFI Audience Fund and is set to take place over six months. The event was successful in recruiting new 'audience influencers' from Newcastle.
Anyone who signs up is expected to help promote four films by women directors. The first film will be shown in Tyneside Cinema on May 14. Influencers will be given a free ticket to each film, a Mubi subscription, VOD discount codes and other film-related gifts.
When speaking about being an influencer for Newcastle, Director at Large Mia Bays said: "It would be great to bring people who don't necessarily come here to Tyneside, who may not be independent cinema fans. It's really great to subvert people's expectations and bring people who may not expect to enjoy it."
The evening began with a presentation where the people of Newcastle joined in a discussion about the male gaze and got to understand more about why Reclaim the Frame has been formed, before they joined together for drinks and snacks to get to know each other.
Each of the five cities currently involved has a super-influencer. Laura Rothwell, Founder and Marketing Director at Crystlsd, is Newcastle's and her role is to give information and guidance to anyone who has signed up.
Birds' Eye View are targeting audiences in an attempt to encourage them to be active participants in making the film industry more equal.
The statistics below reflect the inequalities that currently exist in film.
If you are interested in being an influencer for this campaign you can sign up here or find out more information at http://www.birds-eye-view.co.uk/influencers/.