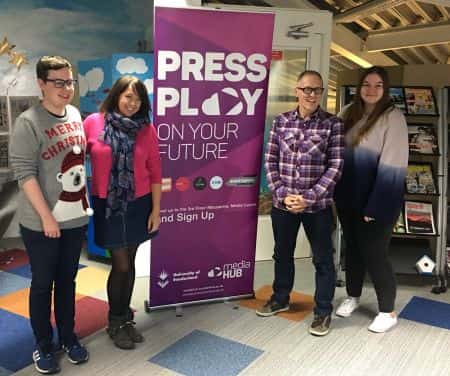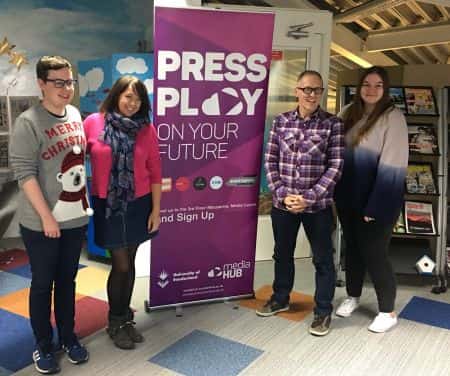 Sunderland may not have won the UK City of Culture bid for 2021, but BBC Radio Newcastle took the result announcement as an opportunity to broadcast their breakfast show from University of Sunderland's Media Centre.
The BBC set up a permanent base in the mediaHUB — an active newsroom run by the university — in 2017, and presenters Alfie Joey and Anna Foster hosted their show from the Spark studios, also located in the building.
Doug Morris, managing editor for BBC Newcastle, said: "The University of Sunderland has been a very significant thing for us, we were looking for an opportunity to get back into Sunderland.
"We're trying to ensure that the BBC has a bigger presence in the city than it has had for a very long time. Doing it in conjunction with the University and recognising the fact that we can give an opportunity to under-served communities and share under-heard voices in the city through the University is something that is important for us to do as a public service broadcaster."
BBC Newcastle's Sunderland reporter, Russell Ward, is stationed in the mediaHUB, and is supported by recent University of Sunderland graduate, Pamela Bilalova.
Through the support of manager India Adams-Norton, a pair of interns and a range of academics and industry professionals, the mediaHUB allows students to create journalism content and have articles published across a number of active websites.
Having the BBC in the same office enables student journalists to see first-hand what it's like to research and pull together stories to meet the non-stop news deadlines.
BBC Newcastle covers Newcastle, Gateshead and Sunderland, as well as Northumberland and County Durham. Their main base in Newcastle is also the home for BBC Look North.
However, their base in Sunderland is now giving Sunderland a greater voice, while also creating opportunities for aspiring journalists.
The breakfast show broadcast — following the fantastic, yet ultimately unsuccessful, City of Culture 2021 Bid — is the second live collaboration between the university and the BBC, with students having worked with the organisation to stage a live cross-party Election 2017 debate, which was aired simultaneously on Radio Newcastle and award-winning student-led community radio station Spark.