The fireman shovels coal into the firebox, the guard slams doors, a quick blast from his whistle, and steam fills the platform to the tune of pistons pumping.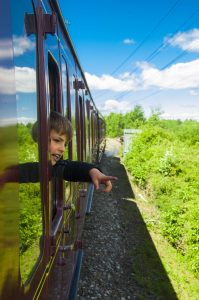 The annual Day Out With Thomas returns to the Stephenson Railway Museum. Children of all ages are invited to visit Thomas at the Stephenson Railway Museum over the coming weekend as he returns for the fourth year running.
Thomas' driver, Keith McNally, said: "It's an excellent event, kids love it. We enjoy it ourselves, it's a great day, a rather long day for us. We're here from 6am in the morning to potentially 6pm at night. The event here is an ideal location, because of the population in this area. It's a reward to them really, not much goes on in North Tyneside and this is something special."
Families will be able to take part in different activities over the day such as riding in vintage railway carriages, taking photos with the Fat Controller who will be giving out Junior Engineer certificates.
Volunteer Guard, John Hargreaves, said: "It's an event that's helping railway preservation and to help get funds to support the railway."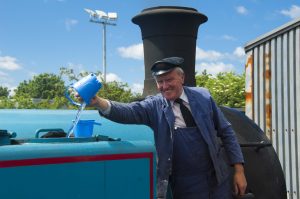 Tickets must be booked in advance. For full event information and booking details see www.dayoutwiththomas.co.uk.
Tickets for children under one year are free, for children aged one – four years are £8, for children aged five – 16 years are £12 and adult and senior citizens are £12. Family tickets are available for two adults and two children for £35 and a group ticket for any five people is £48. Online booking and delivery charges also apply.
The ticket includes all the above and much more: Thomas the Tank Engine at the museum all day; one 3½ mile journey in 1950s' heritage railway carriages; Thomas Storytelling; crafts and activities; face painting; balloon modelling; Thomas souvenir shop; Day Out with Thomas passport and certificate; Thomas DVD showing.
The Fat Controller will officially open the event at 10.15am, and close it at 3.50pm.
There will be a selection of hot and cold snacks available to purchase on the day from Illies café at the museum.
More information on the Stephenson Railway Museum is available at http://www.ntsra.org.uk/.