There were 345 reports across Sunderland's top 10 fly-tipping hotspots, a Freedom of Information request has revealed.
Cleveland Road in Barnes was top of the list with 53 incidents reported.
"It's a real surprise," said Linda Davies of Expressos Coffee, Barnes: "The street is a nice place and mostly just houses. I've never seen any fly-tipping.
"It's a long street and there are a few electrical businesses at the end. Maybe things just get dumped there."
Hastings Street in Hendon was found to have the second highest number of incidents – 48.
Hendon streets made up half of the locations on the list, with a combined 175 reports over last year.
"People don't just leave stuff out in front," said Helen Steele, a Hendon resident: "Someone else must be putting it there."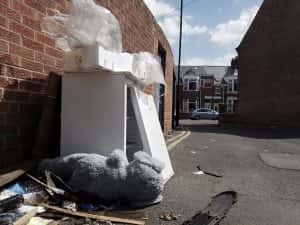 The number of incidents reported nationwide has increased for the third year in a row.
Councils were granted new powers at the start of the year to fine fly-tippers up to £400.
A Press Association freedom of information request earlier this year suggested that more than half of councils have yet to put these new powers into action.
Last year, the cost for English councils clearing up items discarded as a result of fly-tipping was £49.8m.

The Freedom of Information request follows Sunderland City Council's decision in April to change its waste collection to alternate weeks.
"There's no respect," said Craig Teelow, another Hendon resident.
"People are angry, people are acting out."
The cost of having a large item of household waste removed by the council is £17.50.
More information can be found here.