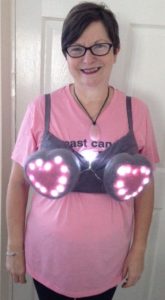 A woman from Wallsend has tackled the gruelling London Marathon in just over six hours after losing both her mother and sister to breast cancer.
Jan Casson ran the 26.2 mile course in the UK capital wearing a bright pink bra and tutu embroiled with hearts and the names of her lost loved ones as well as her supporters and sponsors.
The 59-year-old lost her mother at the age of 13 to breast cancer and in 2005, her sister was also diagnosed with the disease.
The pair began running and completed the Great North Run together four times.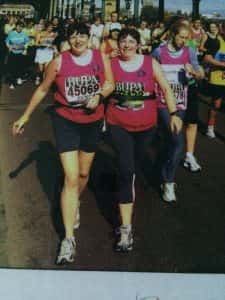 However Jan's sister passed away two years ago.
"That's all the more reason why we need to find a cure. We really need to find a cure for this dreadful disease. It's hit too many of my family and friends.
"For me to don a big pink bra and a tutu and to strut my stuff over 26 miles is an absolute privilege."
Jan, who is chair of fundraising group Pink on the Tyne, ran her first London Marathon in 2011, but a year later she found out that she too had been struck with breast cancer.
Following chemotherapy, a double mastectomy and reconstructive surgery, Jan battled on to complete another half marathon.
She is now in remission and complete her second London Marathon on Sunday, April 23 raising funds for research and support charity Breast Cancer Now.
"When I had chemotherapy, the muscles in my legs completely deteriorated so I really had to build them up while doing the Great North Run and a couple of other walks.
"When you're out there you get the support of the crowds, [they] cheer you on."
Jan is now optimistic about her future.
"I don't worry about secondary breast cancer because it might never happen. I've lost the nearest and dearest to this disease. It makes me fight all the harder because I need to continue what I've been doing, [because] they haven't had a chance to," she added.
Sian Wilkinson, challenge events manager at Breast Cancer Now, said: "We are so grateful for Jan's wonderful support. We are thrilled that she chose to run the London Marathon for Breast Cancer Now, and the money she has raised will go towards life-saving breast cancer research.
"Breast cancer is a devastating disease that still cuts short the lives of around 11,500 women and 80 men each year. We want to change that.
"With the support of all of those who ran on Sunday for Breast Cancer Now, we're continuing to fund research that's finding new ways to prevent, detect and treat breast cancer, until the day when we stop it once and for all.
"And with supporters like Jan by our side we can make it happen faster. We'd like to thank Jan, and congratulate her on her incredible achievement in completing the London Marathon!"