Using research from www.police.uk, SR News has found that the main campus at the University of Sunderland has the lowest crime rate of any university in Tyne and Wear.
Sunderland had a total of 48 arrests on campus in 2016. Northumbria had the second highest crime rate with 160 arrests and Newcastle proved to have the worst crime rate of the Tyne and Wear universities in 2016 with a massive 558 arrests.
While the University of Sunderland's crime rate is far less than Northumbria University's and Newcastle University's, the amount of arrests on campus has risen in the past year having only had 31 arrests in 2015 and 35 in 2014.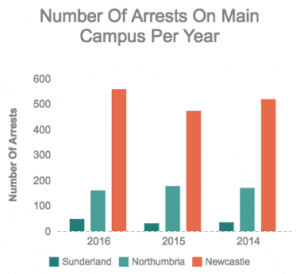 A University of Sunderland spokesperson said: "We pride ourselves on our students being able to study and socialise in a safe environment and these figures highlight that we have some of the lowest crime rates in the region.
"The figures validate the dedication and hard work of our staff who work in close partnership with Northumbria Police, which has helped us achieve a reduction in overall crime on our campus over a number of years.
Among all the crimes committed around the Sunderland campus since 2014, the most common offences were for drug use, theft and for displaying anti-social behaviour.
When asked about how they aim to prevent these crimes from happening, a representative for the University said: "The university provides a security service 24-hours a day and now has a dedicated on-campus police officer who runs several crime prevention and person safety events throughout the year as well as being available for advice if requested."
Jonathan Bargh of Northumbria Police said: "While the number of crimes committed on Newcastle and Northumbria campuses are concerning we now have more officers working at both universities and their surrounding areas in order to prevent such crimes taking place."
The January 2017 stats have recently been released and show that all three universities have less arrests in comparison to January 2014, 2015 and 2016 – which indicates the attempts to minimalise crime are working.