A yoga teacher from Cleadon says that schools should adopt meditation and yoga techniques to increase children's emotional well-being.
Nadia McSheffrey, Founder of The Tranquil Treehouse works with school children and staff to develop and nurture pupils emotionally, mentally and physically.
She said: "It has been a huge revelation for me, especially during my one-to-one coaching where children have opened up, and they share things and it's lovely to see.
They're in a safe environment and they know that nobody is going to judge them for opening up."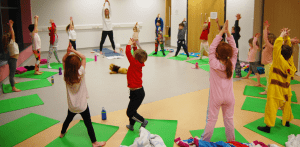 The Tranquil Treehouse provides one-to-one, group, and class sessions for schools as well as public classes that anyone can attend. The sessions include yoga poses, storytelling and interactive discussions where children can learn how to cope with their emotions. It provides sessions for pupils of all abilities, and builds confidence and self-esteem.
We spoke to Nadia about the benefits of teaching emotional well-being to children and how it can change their behaviour and happiness.
Nadia said: "What i do try to explain to the children is how their brain works, in regards to Neuroplasticity because they may not understand how their body works.
"They start to panic because when they don't understand what is starting to happen with their brain and their body. When they start to understand what happens to their brain, like with anxiety, they can begin to take ownership of their emotions."
Neuroplasticity is described as the lasting change to the brain throughout a person's life and shows that many aspects of the brain can be altered. It opposes previous scientific reports that stated the brain develops mostly throughout childhood and then remains unchanged. Behaviour, thought, and emotions may cause change within the brain which can lead to learning, memory and healthy development.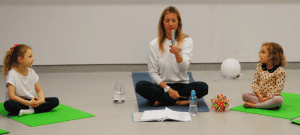 She added "From the minute that they wake up they have had no downtime, It's constant, they're busy and their brains are working, so for that ten minutes that is the time that they can totally relax and let go it's lovely to see.
"I am so passionate about it, to help children and educate them."
Public Health England stated in 2015 that students are more likely to engage in lessons regarding emotional well-being if it is relevant to them and allows interaction.
The National Institute for Health Care and Excellence (NICE) recommends that primary education providers should include the development of social and emotional skills within learning, including, understanding and managing feelings as well as coping and conflict management and resolution.
After the business began in September Nadia has seen great progress and a lot of support from teachers and parents. Nadia said: "Teachers and parents seem to be crying out for it, I have a waiting list for public classes because parents are really keen to give their children the breathing space.
"I am also getting involved with training teachers as well on how their children and their brains work. So that might be why one child is acting out, or that another has chosen not to speak and has become an elective mute. I think once the teachers are aware of how their brain works it's a really good step forward."
For more information on the services that The Tranquil Tree House provides visit their website.