The 2017 Glastonbury festival line-up has been announced with Ed Sheeran, Radiohead and Foo Fighters as headliners. People around the region have been responding to the festival line-up including local artists and music experts.
Sunderland hip-hop artist 90Bro shared his thoughts with SR News on the Glastonbury line-up.
He said: "An authentically British culture being celebrated at Glasto is a step in the right direction, urban music going rural. I'm happy to see such an eclectic mix from both sides of the Atlantic."
Its not the headliners catching headlines however, with the vast majority of the line-up consisting of hip-hop and grime talents, social media users have begun coining the terms 'Rapstonbury' and 'Grimestonbury.'
Alongside the surge in UK rappers and grime MCs, there are also several notable American artists including the likes of Katy Perry, Run The Jewels and Anderson .Paak.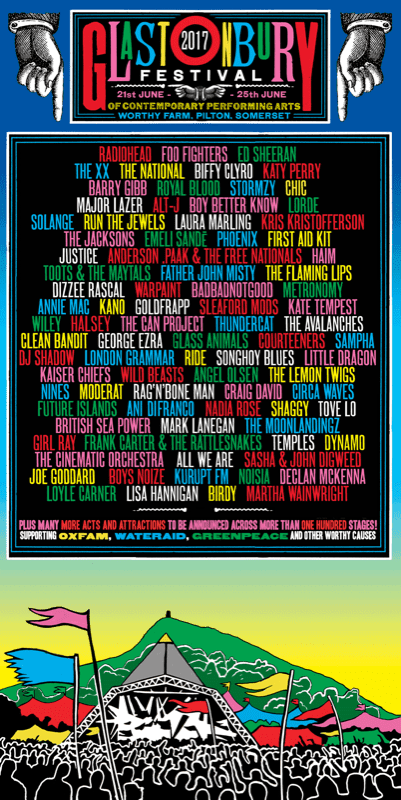 Steph Chungu is the Deputy Head of Music at Spark, a community radio station based in Sunderland and she finds "the three headliners underwhelming."
The Spark volunteer added: "It was a safe choice from organisers and just lost its edge. The line up looks okay, but honestly, I do think Glasto should have taken a break this year and come back in 2019."
Every year music fans wait in anticipation for the Glastonbury festival to announce their line-up. Throughout its history the iconic festival have offered a snapshot of the soundscape of music each given year.
Amongst the acts performing at Worthy Farm include Stormzy, Nines and Wiley. Each of the three aforementioned London MCs have achieved chart success in 2017 and Stormzy is also performing at the o2 Academy in Newcastle next week as part of his 'Gang Signs And Prayers' tour.
In 2013, Wiley canceled his appearance at Glastonbury, ranting on Twitter about not wanting to perform in a muddy field. Since then, Wiley claims to have learned a lot, speaking on Twitter the Godfather of grime admitted it took him "a while to understand the power of Glastonbury."
It took me a while to understand the power of @GlastoFest wish I went in the early days but let's keep it moving.See u there.

— Chasing The Art #BBK (@WileyUpdates) March 30, 2017
The impending controversy over the urbanisation of the line-up, moving away from its rock roots is not lost on Twitter users, with some asking if anyone has told Noel Gallagher yet. The former Oasis guitarist has criticised the festival in the past for booking artists such as Jay Z and Kanye West.
Skepta, Wiley, Stormzy, Dizzee, BBK, Kano all playing Glastonbury. Anyone asked Noel Gallagher for his opinion on the lineup? #rapstonbury

— Leigh Jones (@leighsus) March 30, 2017
Glastonbury Festival is taking place in Worthy Farm, Somerset from June 21st – 25th supporting Oxfam, Water Aid and Green Peace. More acts are expected to be announced in the near future.