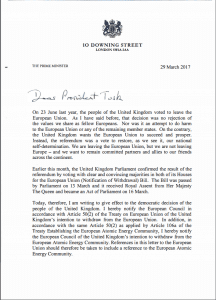 The North East England Chamber of Commerce (NECC) has welcomed the triggering of Article 50.
Theresa May's letter to Donald Tusk, President of the European Council, was received today (March, 29).
Ben Powick, policy advisor for the NECC, said: "With the great repeal bill that's going to enshrine EU law into UK law, it provides an element of certainty for businesses as that means there aren't going to be any dramatic changes in terms of the day-to- day ways that they do business and it's going to be for future UK governments to decide if they should change things.
"That's very much in the hands of the UK."
Mr Powick echoed the Prime Minister's sentiments that the UK will have to abide with EU law in terms of exports.
He added that the North East has good trading relationships with North America and parts of Asia, and leaving the EU is an opportunity to develop links.
"We had a delegation from South Africa come to the North East last week, and there is great enthusiasm from these countries outside of the EU for what the UK can offer," he said.
"Once we have the opportunity to make our own trade deals and arrangements with these countries, there is scope for us to grow our exports in the future."