A charity star is inviting Tyne and Wear schools to design his next Big Dress for the Gateshead 10k.
Colin Burgin-Plews, who is also known as the Big Pink Dress, has teamed up with Co-op Funeral Care to deliver the project which could see a child's design on his frock, on TV.
The Big Dress will join thousands of participants for the Great North 10k, when it returns to Gateshead on Sunday, July 9.
Mr Burgin-Plews said: "I'm over the moon to have the Co-op on board to try and find a design for the next Big Dress for the Gateshead 10km.
"Getting the local schools and public on board is so important.
"I can't thank the Co-op enough."
Many schools in Tyne and Wear will soon be receiving a poster detailing what they need to do.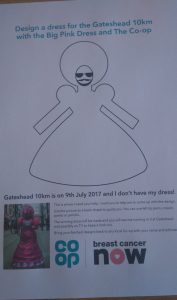 Cheryle Waters, an admin arranger at Co-op Funeral Care in Boldon, added: "I asked Colin how he comes up with his dress designs and we just thought it would be a fun idea to ask the local school children if they would help.
"We are busy visiting local schools in Tyne and Wear asking the children to help Colin.
"I love working with Colin no day is ever the same and obviously the work he does with Breast Cancer Now makes us all very proud to be part of the great work he does.
The closing date has not be finalised, but will be included on the final draft of the poster being sent to schools.
If anyone would like to take part they can contact Cheryle Waters at Boldon Co-op Funeral Care on 0191 5367232.