Grab your Vans skate shoes, spike your hair and put on your best band t-shirt because pop punk heroes New Found Glory are returning to the region.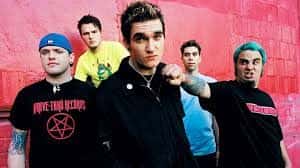 The Floridian four-piece band aka The Godfathers of Pop Punk are doing a series of shows all over the U.K and are doing a stint in Newcastle's 02 Academy. They are playing their second album New Found Glory and their third album Sticks & Stones in their entirety.
The pop punk group had a string of hits in the early 2000's with songs such as Hit or Miss, Summer Fling Don't Mean A Thing, My Friends Over You, Vicious Love and Head On Collision. They have been a staple of the pop punk scene for several years and have influenced several bands themselves.
A spokesperson for 02 Academy Newcastle said. "Right now there have been about 1300 tickets sold and the way we book the bands is their promoter comes to us and selects a date that they could possibly play. So instead of us going to them to get them to play here, the band's promoter comes to us."
Many fans claim the 02 Academy is struggling to attract the big names to their venue. Though they have had bands such as Halestorm, Panic! At The Disco and others, it often seems the big league rock bands and musicians are booked to perform at Newcastle's Metro Radio Arena or they don't add tour dates to Newcastle leaving their fans disappointed.
Gavin Grey, bassist for North East based metal band Tygers of Pan Tang said. "I think it's because Newcastle and the North East is such a small place then the bands tend to go somewhere bigger like Manchester or Glasgow to save money for travel."
New Found Glory will be playing at the 02 Academy in Newcastle on September 26. Tickets are currently on sale for £23.
Leo Cheung, 21, an IT technician student at Northumbria University is going to see New Found Glory. He said. "I think it's just the demand honestly and how Newcastle has less people and how geographically speaking England is pretty small, maybe think travelling to Manchester for one show isn't that big of a deal."
So if you're going to see New Found Glory, grab your skateboard and get an attitude and go check out the legends in action.