Words by Katie Baggott and Charlotte Price
Mowbray Park in Sunderland has welcomed the first veterans pathway of its kind to the UK.
A walkway, made of various granite stones, will be engraved with the names of veterans, past or present whether on Land, at Sea or in the air.
The project is the brainchild of the family and friends of Private Nathan Cuthbertson who was sadly killed in Afghanistan in 2008.
Tom Cuthbertson, who launched the honourable project wanted to recognise all personnel who have served their country in any capacity.
Mr Cuthbertson stated: "They all stand equal is our motto. We should all stand shoulder to shoulder, no matter what or who we are. The stones are better mixed, with different regiments, rather than being all split up."
Alongside Tom, Rob Deverson, operations manager for the Veterans' Walk opened talks with the local Council in 2014 and officials agreed to support planning and development of the walkway.Mr Deverson said: "We have just over 100 stones down at the moment, but there are some younger families who still have serving personnel too. 60 per cent of the stones are for people who are still alive, which is great. In this case, for people who are still in service, we have left no end date on the stone for them."
One of the men celebrating the event was asked to unveil the walkway. He was 100-year-old Ernest Jones. Mr Jones was born in Sunderland in 1916. He was called up by the Royal Welsh Fusiliers in 1940 and was part of the D-Day landing on Gold Beach in Normandy on June 6th 1944.
Mr Jones stated: "I think the Veterans Walk is a fantastic idea to help future generations remember those who have served their country. I hope to be around for many more years so I can keep visiting the walkway."
Mr Jones survived being shot by a German sniper and spent several months in hospital before being posted back to Europe in 1945 and continued to serve until 1946.
Earlier last year, he was awarded the Legion D'Honneur, the highest French medal of honour, for his part in the Normandy landings.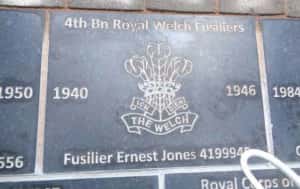 Pauline Peel, Ernest's daughter, also said: "It is a lovely gesture from the family to be able to get my grandad a remembrance stone, on the walk, for his 101st birthday coming up. He was so proud and honoured to be asked to unveil the walkway."
The granite plaques will carry the individuals name, rank and badge of the serving force and will be a lasting permanent reminder of anyone who wishes to create a legacy, whether still surviving or having passed away in peacetime. 
For more information about ordering a plaque visit www.veteranswalk.co.uk or contact Tom directly on 07951 853128.