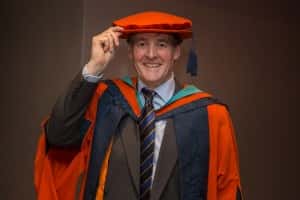 The North East England Chamber of Commerce's Chief Executive James Ramsbotham has received his honorary doctorate from the University of Sunderland.
The 57-year-old, who currently lives in the Durham Dales has been chief executive of the Chamber for more than a decade and as such has been recognised for his outstanding career in business and commitment to supporting the region's economy and businesses, by receiving an Honorary Doctorate in Business Administration.
Colonel The Hon James Ramsbotham received the accolade at the Winter Academic Awards Ceremonies which are held at the Sunderland AFC's home ground, the Stadium of Light on Friday, December 2.
"It's a huge honour. I've had a lot to do with the university over a very, very long time. I hold it in huge regard and as somebody who spends their life championing the North East, but Sunderland in particular because it's where the family come from originally, it really is huge.
"[I'm] just proud as punch," he said.
Mr Ramsbotham hopes his honorary degree does a number of things.
"I think that the role that I have is promoting business and making sure that people both actually within the region and also internationally and nationally understand the huge strength that we've got in business in this part of the world.
"A lot of people are honoured for the work that they do in a specific business but I think my role has been wider of trying to promote business as an entity across the region and so I just think it's wonderful that Sunderland seem fit to recognise that," he added.
Previously, James was vice-chairman of the Esh Group – the award winning North East construction group.
Prior to that James spent 14 years in corporate banking at Barclays Bank plc, based throughout the UK and latterly as marketing director.
He had 12 years soldiering in the Royal Green Jackets, throughout the world, and has benefited from executive education at Harvard (USA), INSEAD (France), and Oxford University after graduating from Durham University.
Mr Ramsbotham holds a number of poignant positions within the business and armed forces sectors.
He is chairman of the Darlington Building Society, honorary colonel for The Rifles in the North of England, chair of trustees for the Durham Light Infantry Museum, trustee for The Foundation of Light (SAFC) and a Deputy Lieutenant for County Durham.
He also supports a number of charitable organisations.
University vice-chancellor Shirley Atkinson said: "We are delighted to be paying tribute to Baroness Grey-Thompson and James Ramsbotham at our Winter Academic Awards Ceremonies.
"Both have all made such a significant impact in their chosen careers and their own journeys to success will no doubt be an incredible inspiration to our graduates who are celebrating their own academic success."
Mr Ramsbotham also gave advice to graduates who wish to become entrepreneurs.
"Just go for it," he said.
"Have the courage; know that actually particularly those that are graduates here today, those people with all of the knowledge that they've gained at Sunderland University that with that skill, with that experience – go for it, but most of all I think it's about never having any regrets about what you haven't done.
"If you think you can do it; do, believe in yourself and have that confidence because we can change the world if only we [are] determined to go ahead and do it."
Mr Ramsbotham is leading the North East England Chamber of Commerce at an exciting time in its history.
Having celebrated 200 years of championing business in the North East in 2015, the Chamber has almost 4,000 members and delivers a range of business support services, especially training and international trade advice.