Hundreds of Sunderland's military personnel will join the Mayor of Sunderland to pay their respects at the annual Remembrance Parade and Service on Sunday, 13 November 2016.
Leading the parade is the Band of the Royal Corps of Signals and the Bearpark and Esh Colliery Band.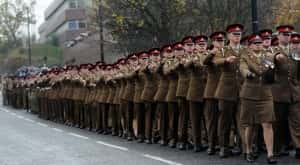 The following units will be marching in the parade.
4th Regiment Royal Artillery
21st Engineers Regiment
The Light Dragoons
5 Armoured Medical Regiment
3rd Battalion The Rifles
RAF Boulmer
4th Regiment Royal Artillery will be providing two artillery guns fired from Mowbray Park to signal the start of the two-minute silence.
Parade Regimental Sergeant Major is WO1 Sean Armstrong of 4th Regiment, Royal Artillery.
The Mayor of Sunderland, Councillor Alex Emerson said: "Remembrance Sunday is an opportunity for the whole city to come together to pay tribute to those who fought in conflicts past and present and the many who gave up their lives for their country.
"It is particularly poignant this year that we celebrate the centenary of the Battle of the Somme in which my grandfather served and was one of thousands missing in action from day 1 of the battle.
"It is equally important that we use this occasion to honour the servicemen and women of today and let them know how much we value what they do and appreciate the sacrifices they make on our behalf."
RAF Veteran George Waller who served in World War II will recite the first four verses of Laurence Binyon's famous war poem "For the Fallen". Mr Waller remembers: "You were fighting for a cause. A good cause and a good country, God's country. We were fighting for a cause, when you think of the Holocaust. I'm proud of my country."
He will be followed by veteran Len Gibson, of the 125 Anti-Tank Regiment Royal Artillery who was a prisoner-of-war on the "Death Railway" in Burma. He will recite the Far-Eastern Prisoner of War Prayer before the wreath-laying.
The parade will end in a march past of veterans and serving members of Her Majesty's Armed Forces. The reviewing officers will be Lt Col Rob Alston MBE RA, Deputy Lieutenant of Tyne and Wear, Col. Ann Clouston, OBE, ARRC, TD DL and the Mayor of Sunderland, Coun. Alan Emerson from the steps of the Museum in Borough Road.
If you wish to attend the parade, please dress warmly and be in place by 10.15 am. Limited seating is available from 9am. The disabled platform will be open at the same time. Free car parking is available in the Civic Centre.
Please note that road closures will be in place from 9.30am onwards with Civic Centre access via Park Lane only.
On Friday, 11 November a two-minute silence will be held. Explosive charges will be fires from Mowbray park to start and end the observance.