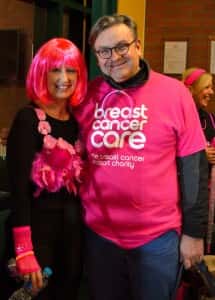 A breast cancer survivor has taken part in a midnight walk over the weekend in order to help raise awareness for Breast Cancer Awareness Month.
Wendy Stuart, 44, walked five miles with 45 of her friends, family and work colleagues, all wearing bright-coloured underwear, from Seaham to Sunderland to raise funds for Breast Cancer Care.
Wendy received the all clear from breast cancer in July and was keen to help raise awareness of the disease.
She said: "Before I was diagnosed I never imagined that breast cancer could be something that would happen to me.
"But while receiving treatment, it shocked me just how many women of my age or younger are affected."
Wendy's employer, Mission Foods, also pledged to donate £50,000 from the sales of their limited edition pink packs to the charity. A total of £2,000 was raised through the event, on top of the donation by Mission.
In a press release, Mission stated "the atmosphere was fantastic" during the night and that "everyone was buzzing to be there in support of such a fantastic charity."
Peter Ellis, Managing Director of Mission Foods said; "We are extremely proud to be walking alongside Wendy this Sunday."
"Wendy is such an inspirational woman, who has fought this disease every step of the way, while always staying extremely positive. This is our chance to help her to raise awareness of this amazing cause and secure some extra funds for our charity partner."
Each year, nearly 60,000 people are diagnosed with the disease in the UK. One in eight women, and around 340 men, will develop breast cancer in their lifetime. It is the most common cancer in women in the UK and nearly 12,000 people die from the disease each year.
According to a YouGov survey conducted last year for Breast Cancer Care, a third of women do not check their breasts on a regular basis for signs of breast cancer. A shocking one in five women stated the reason behind this is because they didn't know how to check for symptoms.
Also, one in seven women aged over 50 never check their breasts outside mammogram appointments. The risk increases with age, with more than 80% of breast cancers occurring in women who are over the age of 50, and most men who are diagnosed are over 60.
Zoe Pate, Corporate Partnerships Manager at Breast Cancer Care said: "We are delighted to be working in partnership with Mission Foods for the third year. Every 10 minutes, another person in the UK is diagnosed with breast cancer and its devastating effects impact thousands of us every day. The funds raised through our partnership with Mission Foods will help us provide a lifeline of care, support and information for anyone facing breast cancer, from day one."
The charity has launched a free smartphone app, 'Breast Awareness' to help people recognise the signs and symptoms of breast cancer. The app encourages users to get to know their breasts through a range of questions, and quizzes them on whether certain changes to their breasts would indicate cancer symptoms. The app then gives information about symptoms based on the answers users gave, whilst featuring the option to share on social media to further raise awareness.
Assistant Director of Digital at Breast Cancer Care, Jo Wolfe said: "Breast cancer isn't just about a lump – it's important that people get to know the other signs and symptoms to look out for.
"This exciting new digital tool… can reach key audiences in a way that works for them, and make the idea of getting to know and checking your breasts more accessible for everyone."
Current winner of Top Model of Sunderland, Jade Bambrough, teamed up with photographer David Miller to release a photo-campaign for breast cancer.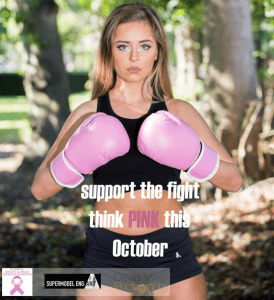 Jade who 'felt proud to do the breast cancer campaign shoot' said: "I think the midnight walk is a great way to raise more awareness for breast cancer. Not everyone is fully aware of how many people are affected by breast cancer on a daily basis.
"Having events like this allows people to understand how important it is to go to the doctors for any abnormal changes."
Miller said: "It was a joy to work with Jade on an important issue".
The photographs taken by Miller show Jade in a pair of pink boxing gloves and 'fighting back' against the disease.
Miller said: "I have had family members fight cancer and the campaign was about fighting back and raising awareness.
"It is important to raise awareness for breast cancer, as it not only affects women but men too." Miller went on to state that he received a lot of positive feedback from the photographs and would continue to work on similar projects in the future.
Wendy also said; "If we can encourage one person to check for abnormalities, then walking through the night will be worth it."
The 'Breast Awareness' app is available for free download from iTunes and Google Play.