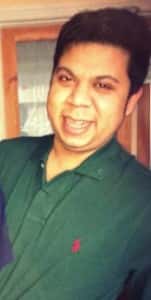 The murder of South Shields' takeaway owner Tipu Sultan will be featured on BBC's Crimewatch tonight (September, 5th).
Millions of viewers across the country will learn how the murder case of the 32-year-old man was solved by Northumbria Police detectives.
Mr Sultan was shot and killed at the rear of his takeaway restaurant in Lake Avenue on April 7, 2015.
In June 2015, the police arrested and charged Michael McDougall and Michael Mullen with his murder.
McDougall was jailed for a minimum of 34 years in prison after being found guilty of his murder. Mullen received 12 years for manslaughter.
Detective Chief Inspector John Bent, who led the murder investigation, said: "Tonight's show will hopefully provide further closure and comfort to Tipu's family. They know that those responsible for taking his life are now behind bars and will be for a very long time to come. I want to thank them for the support, bravery and courage that they have shown as a family throughout the investigation.
"I also want to thank the people of South Shields, they were key to the inquiry and the support and help the local communities showed our officers was outstanding.
"This investigation was extremely complicated. The team dedicated to it worked tirelessly ensuring that those responsible were brought to justice. Northumbria Police is very proud of everyone who played their part in ensuring that two extremely dangerous men will now serve very long custodial sentences for this abhorrent crime".
The show will air on tonight (September 5th) at 9pm on BBC1.