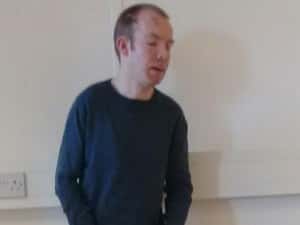 A North East comedian who is unable to talk is performing at the Edinburgh Fringe festival throughout August.
Lee Ridley, also known as Lost Voice Guy on stage, is taking his communication aid with him to share his new show Disability for Dunces Volume Two.
His show is described on his website as:
"Award-winning comedian Lost Voice Guy started off in a disabled Steps tribute band. They were called Ramps. That didn't work out though, so he's answering more of your stupid questions instead."
Mr Ridley said: "I'm looking forward to it. This is my fourth year at the Fringe and I seem to enjoy it more each year.
"Even though Edinburgh is the most inaccessible city in the world, I actually enjoy playing at the festival so much.
"It's such a great buzz and the whole city seems to be up for a laugh for a whole month.
"I also love the social side of the festival as well. It's not often that comedians can get to hang out with their peers very much.
"Being at The Stand is the icing on the cake. It's my favourite venue to play anyway, so getting to play there every day is just amazing."
The 2014 BBC New Comedy award winner is performing at the Stand Comedy Club Five until Sunday 28 August, except Mondays, at 1.15pm.
There will also be a performance of his show in a fully accessible venue – Stand In The Square – on Tuesday, August 23 at 8.20pm.