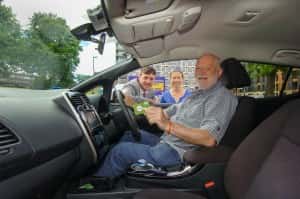 National car sharing operator, Co-wheels car club has geared up in Sunderland.
Four low cost, low emission cars for hire are now being provided from dedicated parking bays in the city centre on a short-term 'pay as you drive' basis.
It is aimed at both business and residential customers, providing easy and affordable access to low cost car hire on subscription to members of the car club.
The project is delivered by Sunderland City Council and managed by Co-wheels, whose head office is in Durham and is part funded through the North East Combined Authority (NECA).
Sunderland City Council's portfolio holder for city services, councillor Michael Mordey, said: "Our city is committed to promoting sustainable transport, and I was delighted to be one of the first behind the wheel of one of the low cost, eco-friendly cars available for hire at convenient city centre locations near public transport links.
"What we want to is make more people aware of the fact they can leave their car at home, and pick one up one easily in the city centre to drive either for business or personal use."
Jonathan Adams, 68, a retired Church of England priest and former community development worker and William Harrison, a governor support officer at Sunderland City Council have already taken up the opportunity.
Mr Adams, who lives in Tunstall Vale said: "Twenty years ago our kids didn't need ferrying around any more. We thought there were too many cars in cities and we tried living without one.
"After two weeks we were happy with buses and bikes and we sold the car – no worries about the MOT or finding a parking space and more money to spare.
"I use public transport a lot, occasional taxis and have a contract with a car-hire firm for longer trips, but close to home Co-wheels is much more flexible. You can pick one of four cars within a mile radius in the city centre including use in the evenings or at the weekend."
Mr Harrison, who works at Sunderland City Council, drives one of the vehicles for business use throughout the day, added: "During the day I often go to meetings across the city and having access to a Co-wheels car adds to my travelling options alongside the bus and Metro.
Members of the project can book cars online and unlock them with a smart card.
They can be hired for periods of 30 minutes up to several days at a time and are charged at £4.50 per hour, plus a small mileage fee, with discounted day and evening rates.
At the end of the booking time the car is then returned to its bay for the next driver.
Co-wheels community cars are already in place at more than 60 towns and cities across the country.