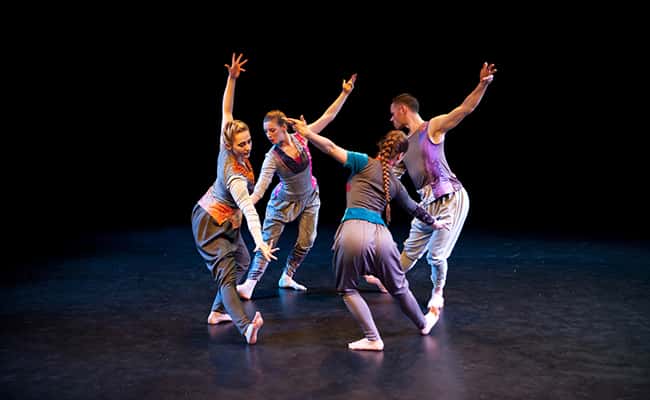 Sunderland will be at the centre of the world of contemporary dance in May when an exciting new work by three choreographers premieres at Sunderland College Arts Academy.
Dancing the Road is an original triple bill brought to the stage by FERTILE GROUND, the North East's premiere graduate dance company. It consists of three distinct pieces by three very different choreographers.
Elephant Dances is both a celebration and a homage to the great elephant.
Frankel and Company explore how the elephant-headed Hindu god Ganesha evokes the characteristics and power of this most wonderful and endangered mammal. The work promises to be evocative and provocative – crossing cultural boundaries and with the potential to transport audiences through time and across continents.
Eight Steps by internationally renowned choreographer, Malgorzata Dzierzon, references the prescribed movements within the game of chess to explore how we negotiate public spaces.
Era is an intense, physically wild piece co-created between the FERTILE GROUND dancers and innovative choreographer James Wilton. Delving into the dark side of digital technology and social media, it asks us to examine how we communicate in the modern era.
All the dancers are from the region, including Abbie Ross who hails from Sunderland and trained in the city too.
Abbie recently graduated from University of Sunderland with a BA Hons in Dance, and studied her Foundation Degree in Dance at Sunderland College Arts Academy.
She has been a member of DUSC Dance Company, based at University of Sunderland, and was chosen through an open audition to be a company dancer for FERTILE GROUND.
Abbie says: "Joining FERTILE GROUND means I can explore the art of dance and through giving spectacular and memorable performances reach out to new audiences."
Doyenne of dance, Dora Frankel, formed FERTILE GROUND specifically to provide career development opportunities for young dancers in the North East to enable talents to stay in the region.
She hopes that seeing these dancers successfully working in the North East will inspire a new generation of regional young people to consider dance as a career.
The previous tour in 2015 certainly hit the right note.
Jane Reed, Head of Performing Arts and Media at Sunderland College says: "We are totally committed to FERTILE GROUND and proud to have them in residence here on a regular basis."
Glimpses of the works in progress can be had at open rehearsals (details can be found here). These glimpses have so far promised that Dancing the Road will be an incredibly vibrant, diverse and intense experience for audiences of all ages.
Dancing the Road is a rare and unmissable opportunity for lovers of dance in and around Sunderland to witness the birth of three new works that will resonate through the region and beyond.
Tickets for the premiere performance at Sunderland College on Wednesday, May 11, cost £10 (£7.50 concessions) and are available here.
Enter promo code 2FOR1 when booking and get two tickets for the price of one! Offer ends Monday 18 April.