Valentine's Day isn't just a day to be celebrated by couples in love. If you're single, go out and experience the fun part too, and use it as a day of self-reflection, a day to love yourself, go out with a friend or have fun by flirting with the dating game.
Here are nine ways you can enjoy being single on Valentine's Day:
1. If you love scenery, the North East is home to some of the best. In Sunderland, take advantage of the clean and serene seafront where you can enjoy the fresh air and sounds of the waves in a stroll along the coastline. The sun rises in the East, so if you're an early riser, try and catch the stunning sunrise.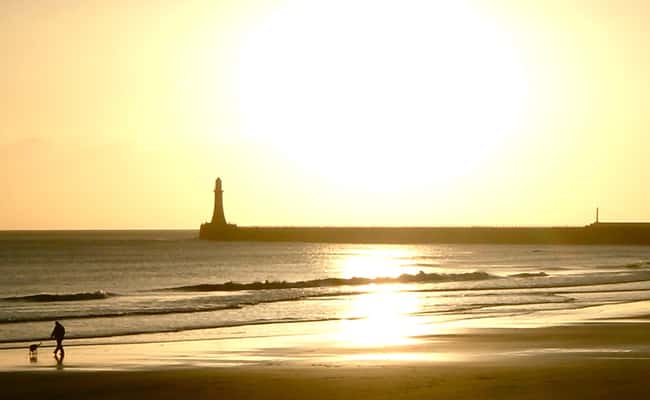 2. Love discovering secret hidden gems? In the heart of Newcastle city centre, on Westgate Road, lies a library that not many know about. It is an enchantingly old library full of heavy volumns that tower high to the ceiling and curving spiral staircase. You can spend hours in this place, discovering classic novels or vintage pieces from the archives.
3. Tyneside Cinema is hosting a "singles night" on Valentine's Day. It's an exciting event and it is likely to be like nothing you have ever done before. Welcomed with a glass of prosecco, you will watch a series of short films, paired with a different date for each one. It's speed-dating with an artsy, cultural spin.
4. In Durham, enjoy a quaint walk along the riverside with some of the best sights of the grand cathedral, castle, and rustic city. You can even visit the famous backdrop from some of the Harry Potter films – you'll know it when you see it.
5. Tea rooms are becoming a popular trend, opening here, there and everywhere. Treat yourself and a friend to a traditional British tea-for-two in one of the many tea rooms newly opened across our North East cities. Patisserie Valerie, a much loved French-style patisserie chain, is on Newcastle's Grainger Street and offers afternoon tea for two that comes with a choice platter of savoury, patisserie and scones, all for £25.
6. Hate the concept of Valentine's Day altogether? That's no reason not to enjoy it. Join others like you in a dark basement to laugh with booze, food and comedy. Really what could be better? Anti-Valentine's Day tickets can be bought here.
7. For those who want something active and different, spend your day becoming a belly dancer in Sunderland. Classes are taught by experienced instructor Kay Taylor and begin at Studio Jam in Sunderland with ticket prices from £4.
8. Music fans can spend their Valentine's evening relaxed at the Sage in Gateshead for One Enchanted Evening, listening to Newcastle-born vocalist, Anna Reay perform a list of romantic songs. For more info, click here.

9. Animals need love too. Get in touch with your nearest homeless animals shelter and open yourself up to volunteering. You will reap the benefits.