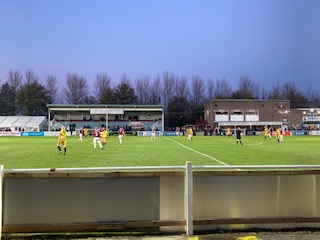 South Shields fan and matchday mouth Chris May tells us why he swapped SAFC for SSFC
For Chris May one of the strangest things in recent times is being recognised at the 1st Cloud Arena while having his post-match pint.
"The last game we were at I think was the FA Trophy game against Colne and people were in the bar afterwards in good fettle because obviously we still had the FA Cup game to go.
"People were getting on with each other, having a bit of banter, a bit of craic and come up to you and say 'you alright Chris?' and you kind of think 'who are you? I don't know your name!'.
"It's doing what we do with the commentary and the podcast and everything else, I started doing a little programme piece every week and people actually recognise you. It's quite humbling actually, you want to get to know these people more because they've taken the time to say hello."
Stepping in last minute to provide commentary for Live Sports FM's coverage of Goole versus South Shields in the 2017/18 season provided a springboard for Chris to pursue his passion for journalism, something he originally wanted to do growing up.
Alongside his friend Ronnie Peet, the pair began their own South Shields podcast, the Mariners Podcast, speaking to people who work and play for the club.
"Our last podcast which was a Q and A with Lee Picton was before the official club Q and A, we've had nearly 400 listeners which was phenomenal really."
With the podcast proving popular with fans, it allowed Chris and Ronnie the opportunity to commentate on Mariners games for the club's match livestream this season.
Daniel Prince, South Shields' Head of Media and Communication, said the pair were the ideal candidates to host the coverage.
"Chris has been an enormous help to the club on matchdays this year. When we began the 2020-21 season we were faced with unprecedented circumstances as our attendances were severely limited as a result of the pandemic.
"Live streaming was one of the key mechanisms we were able to use to remain engaged with supporters unable to attend games. As we anticipated, Chris proved to be a superb host and lead commentator."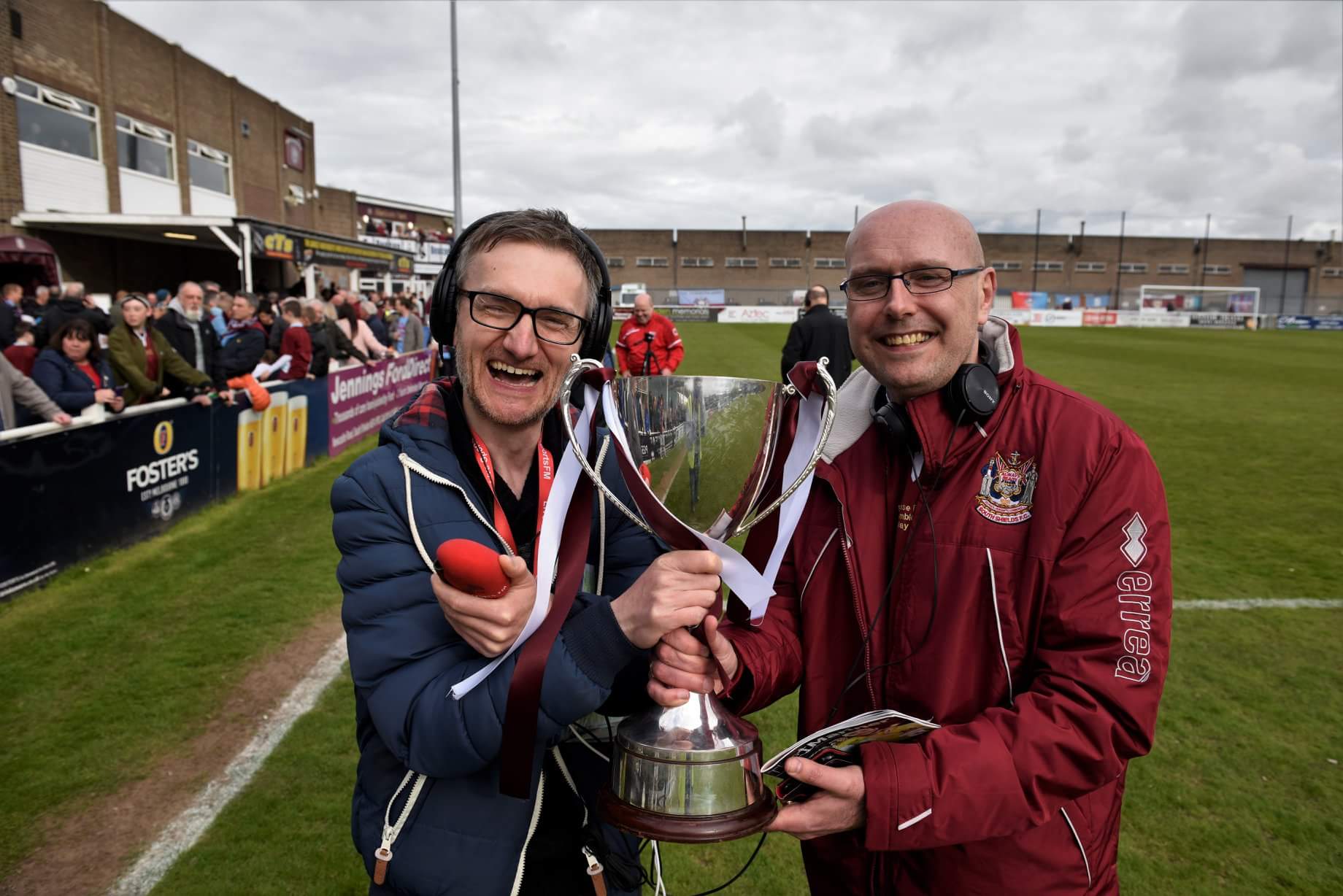 Despite Chris' involvement with Shields, it has been a bumpy road for him to rekindle his love of football.
He grew up a Sunderland supporter, with some of his earliest memories being of him and his brother playing football in the streets pretending to be Sunderland players.
Eventually Chris was able to attend games, becoming a season ticket holder and has some fond memories of watching the Black Cats at Roker Park.
"When you look back on your childhood you have some warm memories and for me it used to be going up the steps at the Roker End and coming over the top to the terraces- it used to fill you with excitement.
"In the winter I used to love the smell of Bovril and pipe smoke. They were happy days, I mean Sunderland were much better than the current crop, but they weren't that much better! It was hard at times, sometimes you used to go and it was the opposition that you looked forward to seeing!"
He kept going to Sunderland games but in 1987 Chris went to his first South Shields game where he was instantly gripped.
"I think it was either the Monkwearmouth Charity Cup or the Shipowners' Cup Final at Jack Clark Park and it was great. It was absolutely packed. We loved it so much we started going, it was probably around 1989/1990 when we started to go and watch Shields on a regular basis.
"They were good times, Shields played good football then and had some great players."
Although the football was exciting, it began to take a back seat for Chris for quite a few years, describing himself as being "in his own bubble" and not taking notice of local sport.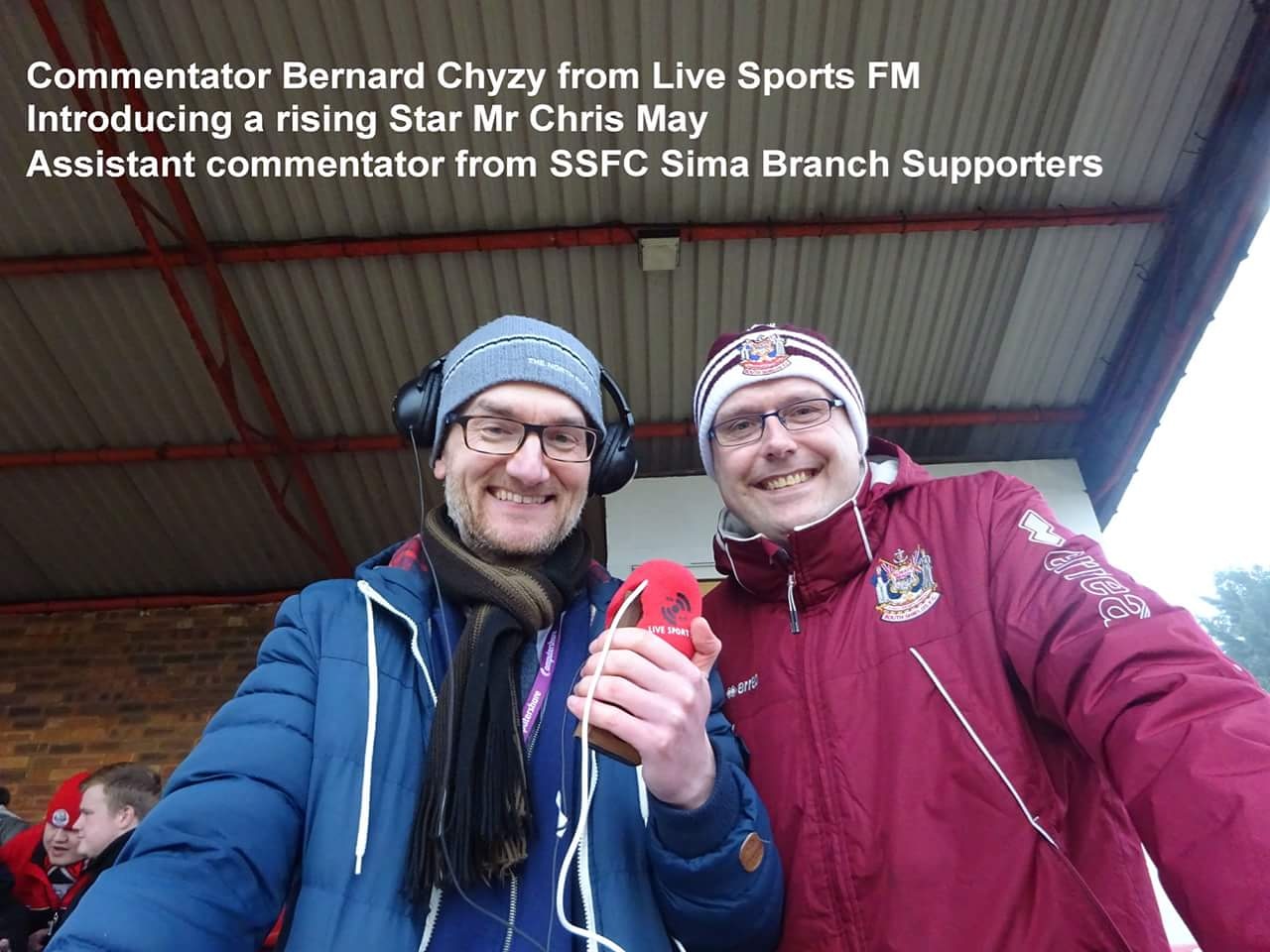 With his sons and some friends he tried to go to a few more Sunderland games in an effort to rekindle his interest. However, with Sunderland's struggling and often lacklustre performances, Chris said at this point he had "really fallen out of love" with football.
It wasn't until a friend of his suggested he go and see South Shields that the football bug came back.
"An old mate from work said 'why don't you pop along to Shields? There's a few of us going now, come and have a pint' and the rest as they say is history because I don't think I've missed a Shields league game [since].
"Just that first day back, that first game back, the feel of it, I don't know it just got me hooked again."
For many football fans in the North-East, following their team has been tricky at the best of times. On Wearside, Sunderland fans have seen their team play some below-average football in recent years, as well as watching the club drop to League One. Similarly, Newcastle supporters have become frustrated by their club's ownership and lack of ambition.
Chris also suggests that for many football supporters of a certain age, they have become disenfranchised with the way the professional game is going. He recalled as a child training at the Charlie Hurley Centre with the Sunderland team and mixing with players, before seeing "a huge gulf" form between players and supporters.
He said at Shields seeing players, including former Sunderland midfielder Julio Arca, mixing with supporters was huge and gave fans a link to their club.
For Chris, supporting the Mariners has rekindled that same passion he felt as a child going to Sunderland games.
"The old excitement that I used to get as a kid walking up past Park Parage and the New Derby [to Roker Park] I kind of get that now walking down Shaftsbury Avenue. I want to get to the ground, I want to be there, I want to watch the game because you know it's good honest football with both teams giving it 100%."