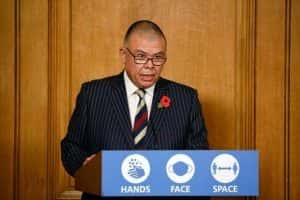 JONATHAN Van-Tam, England's Deputy Chief Medical Officer is warning the public that while Pfizer has an ongoing COVID-19 vaccine trial going on, it is not to be a "shortcut" out of the current national lockdown.
He has said that he is "hopeful" that the vaccines are important in helping us return to a pre-COVID-19 environment over time.
The Joint Committee on Vaccination and Immunisation is currently recommending that the vaccines be rolled out to people working and living in care homes, followed by the elderly. Professor Van-Tam has also said that he would personally get the vaccine, but would not and should not be on a priority list.
He has also applied his "mum test" to determine his confidence in the jab. "I think the Mum test is very important here," Prof Van-Tam told a press conference at 10 Downing Street.
"My Mum is 78, she'll be 79 shortly. And I've already said to her 'Mum, make sure when you're called you're ready. Be ready to take this up'."
On Monday, the world's first effective coronavirus vaccine had shown positive results in preliminary tests on 43,500 people.
Pharmaceutical companies Pfizer and BioNtech are now applying for emergency approval to use the vaccine by the end of November – and a limited number of people may get the vaccine this year.
The UK has the option to order 40 million doses of the Pfizer vaccine, but would not be purchased until it has been proven to be safe and effective.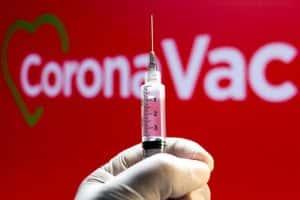 Professor Van-Tam is confident that the NHS has the capability to effectively roll out the vaccine across the UK.
"Do I think we will move at pace to keep up with the volumes that are supplied to us? Yes, I absolutely do," he said.
He has echoed Health Secretary Matt Hancock's comments to the NHS that the only factor that may slow down the inoculation roll-out is the speed that the vaccines can be produced and delivered.
The NHS is already able to roll out the annual flu vaccines and this would start by being issued to similar groups. He added: "From that perspective, I think there's confidence that this system knows how important vaccinations are, knows how important Covid-19 vaccines are, and will move at the required speed."
The national inoculation program will be rolled out in phases starting with residents aged over 50. This would protect 99% of those who are at risk from dying from COVID-19. The program is expected to be a seven-day-a-week operation starting in December based on the current flu inoculation system.
It is hoped that the vaccines will begin in December to get 'life back to normal' by Easter as long as the ministers involved don't "screw up" according to Sir John Bell, a member of the government's vaccine task force.
He added that there is a "70-80% chance" that the pandemic could be over by spring.
"That's provided that they (the government) don't screw up the distribution of the vaccine. That's not my job but, providing they don't screw up, it will all be fine."
A key problem in the vaccine rollout is that the vaccine must be kept at -70C, which is a storage capability most NHS sites do not have.
Mr Hancock's comments come as Baroness Dido Harding, head of the £12bn Track and Trace program was defending it's performance after it was accused of having a "marginal effect" by the Government's SAGE committee.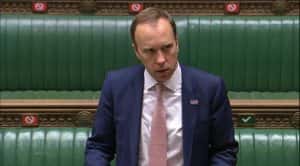 The deaths from COVID-19 are now at their highest levels since June and account for 12% of all fatalities in the UK, according to the Office of National Statistics. This increased to a total of 532 yesterday, which is the highest daily total since May. The number of cases has also risen from 20,018 to 20,412.
Mr Hancock said that after the successful Liverpool trials, similar 15-minute kits will be rolled out across 67 other local authorities.
He added: "Each will get the capacity to test 10% of their population every week
"Testing provides confidence and it is that confidence that will help get Britain back on her feet".
The twice a week testing will also be given to front-line NHS workers but Mr Hancock insists that the issue of care home residents are an issue for local authorities.
Sir John Bell has said that people are deterred by the mandatory 14 day isolation from getting tested and has suggested that mass testing would give people a "freedom pass" to move about.
"We are living in a world where we need to reopen society. At the moment we don't have that structure because the whole philosophy has been 'Let's beat them up with a stick' rather than 'Let's give them a carrot'."
Universities have also been advised to switch to remote learning so that students are able to return to home and continue their studies online.