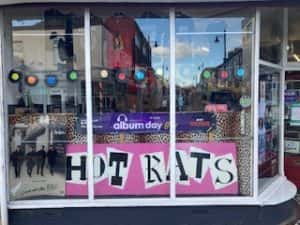 NATIONAL Album Day will be hoping to hit a high note as it returns for its third year.
The event aims to celebrate music albums and what they mean to fans.
Taking place tomorrow (Saturday, October 10), this year's theme is the 80s, a period voted as Britain's favourite musical decade.
Marty Yule of Hot Rats, an independent record shop in Sunderland city centre, says events like National Album Day help to increase footfall in independent shops.
He said: "Days like this help raise the profile of a business as well; if it gets a few people in, it gets a few people in.
"It's the first time I've done a National Album Day, but I'm not expecting anything … I'll sell a few items.
"Sometimes in the past, certainly on the record store days, we've had bands playing and all sorts, but that's got less and less as I've got less and less room in the shop."
A separate music event to National Album Day, National Record Store day has run every April since 2008 and is celebrated globally.
The event was due to take place on Saturday April 18, but was postponed due to the coronavirus pandemic.
However, the organisers have subsequently split Record Store Day into three separate days. Two of the days have already happened in August and September, with the third due to take place later this month.
Marty says that even though Hot Rats did have customers in for the two National Record Store days, there were not as many as in previous years.
"The first one was pretty good, it was better than people expected, because no one knew what to expect," he said. "There was a queue, and everybody kept safe and kept their distance, and it went really well.
"The second one, there was less stuff – I think I only possibly broke even, I'm not sure – but there was still a queue and there'll be a queue for the next one."
With an incredible amount of uncertainty surrounding independent businesses at the moment, Marty added that Hot Rats has managed to cope during the pandemic.
He said: "We haven't done too badly, to be honest. Obviously, the money from the government Arts Council has helped smaller shops get through it.
"It's just from now on that seems to be the important thing, it's whether retail is going to return to normal – which was bad in Sunderland anyway – but it's just a case of waiting to see."
And Marty's favourite album of all time?
"There's a question! Obviously like most human beings, it's a changing thing. I like a bit of blues, a bit of jazz and a bit of rock.
"At the moment, I'm enjoying some Bobby Hutchison albums on the Bluenote label – they're great!"