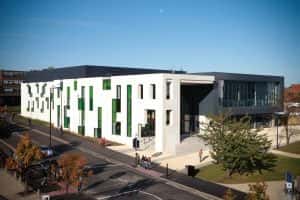 University of Sunderland Vice Chancellor Sir David Bell sought to squash any concerns, following news that an NHS Covid-19 test centre will be opened on city campus.
The Vice Chancellor was speaking following the announcement that the university will host a testing centre on the Johnson Street car park to help public health efforts in curbing the increase of new coronavirus infections.
The testing centre is opening at the same time that several north eastern universities are grappling with outbreaks. Yesterday both Newcastle and Northumbria universities reported 1,600 new cases, forcing teaching to move entirely online. While the University of Sunderland itself has reported 102 new infections.
SR news spoke to the Vice Chancellor, who was keen to downplay the risks of increased exposure to the virus, as a result of hosting a testing centre on campus.
Sir David said: "No, it won't increase the risked posed by the pandemic to students. The testing centres are highly secure centres. The whole purpose of these test centres is to test and provide results and certainly not under any circumstances be responsible for spreading the virus."
Additionally, the Vice Chancellor believes that the installation of the new testing centre will in fact provide a boost for the university and the local community in the fight against the pandemic.
He added: "I think I would see that as a reassuring sign. Additional testing facilities are going into the city, boosting public health efforts and allowing for staff and students to quickly access tests."
The ongoing pandemic continues to cause disruption to everyday life and in particular the dramatic change to the student experience for first year and returning students who have had to adapt. The Vice Chancellor sought to express his solidarity with the student community.
He said: "I have huge sympathy, particularly for our new starters. This is not like the normal start of the academic year. What we are trying to do is to ensure that we get people started on their educational journey and we try to provide as much support as is possible.
"This is the generation of students who have a very disrupted last year at school or college I have great sympathy in particular.
"Even for our mature students, of whom we have many, they have had to manage these very uncertain last six months. All we are trying to do is provide as much reassurance as possible and provide as much as support academically and socially to all of our students and our staff."