Sports fans have the chance to watch the world cup in Wimbledon in a unique surrounding.
A double decker bus with a 20 feet long screen will become a mobile fanzone during the summer sports in Sunderland.
The bus will be parked at various locations around the city between 14th of June and 15th of July.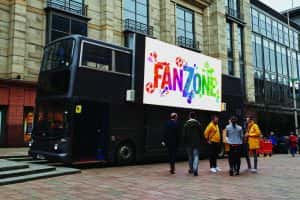 Sunderland can enjoy the best of this summer's national and international events in a unique fashion, thanks to the city's Business Improvement District.
F1, FIFA World Cup, Royal Ascot, and Wimbledon are among the sporting highlights being screened, hoping people will go along to the family friendly events and create a real party atmosphere.
The bus will visit Low Row and Park Lane and will also be parked at Sunniside over the weekend of the Sunniside Live Festival on 6 -7 of July.
Sharon Appleby, Head of Business Operations at Sunderland BID believes the events will be extremely popular.
"We last ran a Fanzone in Park Lane to coincide with Euro 2016 which attracted huge crowds," said Sharon.
"And this seemed the perfect time to run it again, but to expand the scheme so we could take it to a variety of areas across the city centre.
"It's running over a time when we have so many events taking place in Sunderland, including the Tall Ships Race and Sunniside Live, so it's great to be able to add to what already is a fantastic programme."
It will have an on-board bar, but businesses in the surrounding area where each screening takes place have offered their support, with their own special deals on food and drinks.
Seating will be available to watch the games and plans are currently underway for an additional programme of activities and entertainment that will change throughout the month.