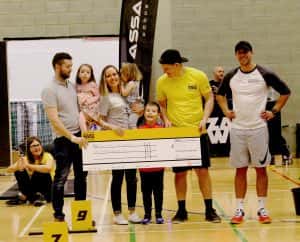 A new individual functional fitness competition held its inaugural contest this month in Sunderland, donating 10 per cent of all qualifier sign-ups to help good causes.
The competition, First Means Everything, took place on April 14 and was designed to be accessible for all ages, from teens to veterans.
The event also raised money for the Nicole Rich Foundation, which helps fund medical research and support into treatments for CLN2 – the most common type of the Neuronal Ceroid Lipofuscinosis (NCL), commonly referred to as Batten Disease.
Jon McManus, who was one of the people involved with the charity said: "The NHS don't fund it, the girls are only getting treatment through the drugs company."
According to the foundation's website, Batten Disease is an extremely rare genetic disorder which is inherited by both parents who are unaffected carriers. Commonly referred to as Batten Disease, the Neuronal Ceroid Lipofuscinoses (NCLs) are a group of genetic metabolic life-limiting diseases which cause a progressive deterioration of the brain and nervous system.
Treatment for Batten Disease is not currently funded by the NHS, as apparently the drug is not cost-effective. However, NICE (National Institute for Health and Care Excellence) – the company who currently supply the drug – have said they will negotiate with the NHS in the future, to make it available through the health service.
The competition is the first one held by organisers Jonathan Steele and University of Sunderland graduate, Stephen Brewis, who had both competed in fitness competitions themselves in the past.
Asked why they chose to host the competition, Stephen said: "Some fitness competitions are more of a money-making thing than about the experience. So, we wanted to give athletes a better experience."
Speaking about whether there would be future events, fellow organiser, Jonathan, said: "We've got big plans to hold this again as this one was to test the waters."
If you would like to find out more about the Nicole Rich Foundation, head to their website http://www.thenicolerichfoundation.org.uk/ or if you would like to make a donation, head to their funding page https://mydonate.bt.com/charities/thenicolerichfoundation
https://create.piktochart.com/output/29995192-new-piktochart