Sunderland's young super fan Bradley Lowery will be the pride of the nation on Sunday when he leads the England team out at Wembley Stadium ahead of their World Cup qualifying game against Lithuania.
The inspirational 5 year-old, who has terminal cancer, was invited by the Football Association to be mascot at Wembley for Sunday's Group F clash and will be hoping to be joined by his hero Jermain Defoe – following his recent inclusion in the squad.
Defoe and Bradley have built-up a special relationship in recent months, with the 34 year-old carrying the youngster out onto the pitch at Goodison Park last month before Sunderland's match at Everton.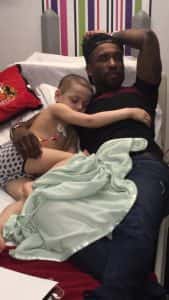 Close family friend and supporter of Bradley's fight, Lynn Murphy, has told how much Bradley is looking forward to being mascot and also commented on the unique bond between him and his idol.
She said: "He's so excited, he's absolutely buzzing about it. It's very rare to get this type of opportunity and make memories.
"He's made a real connection with Jermain – they're like little best mates. Fingers crossed he gets to see him play on Sunday."
Bradley was over the moon to hear his best mate had been called up for the England squad. He loves you @IAmJermainDefoe #specialbond pic.twitter.com/uOzI5ScWZ0

— Bradley Lowery (@Bradleysfight) March 16, 2017
Bradley, from Blackhall Colliery, County Durham, has united football clubs and fans across the nation to raise money and awareness for cancer and the support he has received is "amazing."
Lynn said: "It's overwhelming. All of the footballers supporting Bradley's fight is incredible and he's made a bond with them all. They all love him – I can't describe the connection."
Bradley was diagnosed with neuroblastoma in January 2013 and sadly relapsed in the summer of 2016. Doctors have since told his parents, Carl and Gemma, that the disease is terminal – but Lynn has said how determined he is to keep on fighting.
She said: "He has strength from nowhere. I don't know where he gets it from but he's a fighter and he's battling on."
Bradley begins the next phase of his treatment on Monday 27 March.
For more information and to support Bradley in his fight visit:
Website – https://bradleylowerysfight.org.uk
Twitter – @Bradleysfight