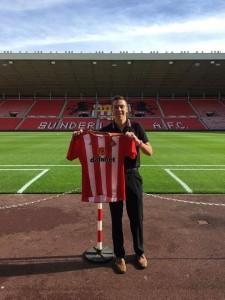 A football fan from America who fell in love with Sunderland AFC while playing FIFA says he is 'living the dream' after moving over 3000 miles to study at the city's university.
Philip Ward, 21, from Buffalo, New York, chose Sunderland as his team at random while playing the popular video game FIFA just over a year ago and has stood by them ever since.
He attended his first ever game at the Stadium of Light last week, watching the 3-2 defeat to Crystal Palace and also watched the Black Cats pick up their second point of the season against West Brom in the 1-1 draw on Saturday.
Prior to the Crystal Palace game, Philip went on a tour around the Stadium of Light and even got the chance to take a photo with his beloved red and white shirt on the pitch.
"The Stadium of Light is amazing, going there was eye opening," he said. "The fans are wild and they really love their team. It's a different culture, it was nice to see and a great experience.
"I watched them stay up last season, that was amazing, and it was a dream of mine to come to their games."
Other than Sunderland AFC, Philip has a keen passion for journalism and has come to the city to study a degree in Broadcast Journalism at the University of Sunderland.
On his first few weeks in the City, Philip said: "I'm enjoying the life in Sunderland, the hills are a bit of an issue but besides that the people are pretty friendly. I'm loving life, the nightlife is pretty good, it's like an ideal city for me."
"The City of Sunderland, the team and just being here is an absolute dream come true."
Sunderland have endured a tough start to the season, picking up just two points from their first seven games.
Despite the difficult beginning to the season, Philip, who has always had an interest in football, remains optimistic that the team he "loves dearly" will beat the drop and remain in the Premier League.
"It's definitely one of my passions and I used to play back in the US. The guys I played with supported Liverpool and Spurs was a big one but I have always supported Sunderland through and through."
"At the beginning of the season I predicted them to win the league but I think we'll stay up. We'll absolutely stay up."