Coronavirus has been a tough time for everyone. Family members lost, businesses closed down and mental health impacted. One of the industries to take the biggest hit was the aviation industry. With an international travel ban, this left many airlines in jeopardy with thousands of aircrafts grounded, and fellow crew twiddling their fingers at home awaiting their next departure. 
 On March 23 2020, England was plummeted into a lockdown which was thought to be of just four weeks at the time. A year later, the pandemic still wrecks havoc through our lives; with businesses still closed, COVID wards occupied and fleets of planes grounded. With the height of the pandemic, holidays are a no-go, leaving Brits dreaming of the day of boarding a plane again. As a result of the pandemic, airlines and their staff have been faced with many struggles and given little clarity of when the next take-off may be. 
 Lucy Carhart is a flight attendant for Emirates, originally from Leeds, the 24-year-old has been living over in Dubai for over two years before the Coronavirus pandemic took its toll. Lucy's life was turned upside down because of the pandemic and had to move back to England. The flight attendant switched her glamorous lifestyle in Dubai to return to Leeds working in a restaurant she previously worked at, hanging up her heels and glamorous Vivienne Westwood uniform.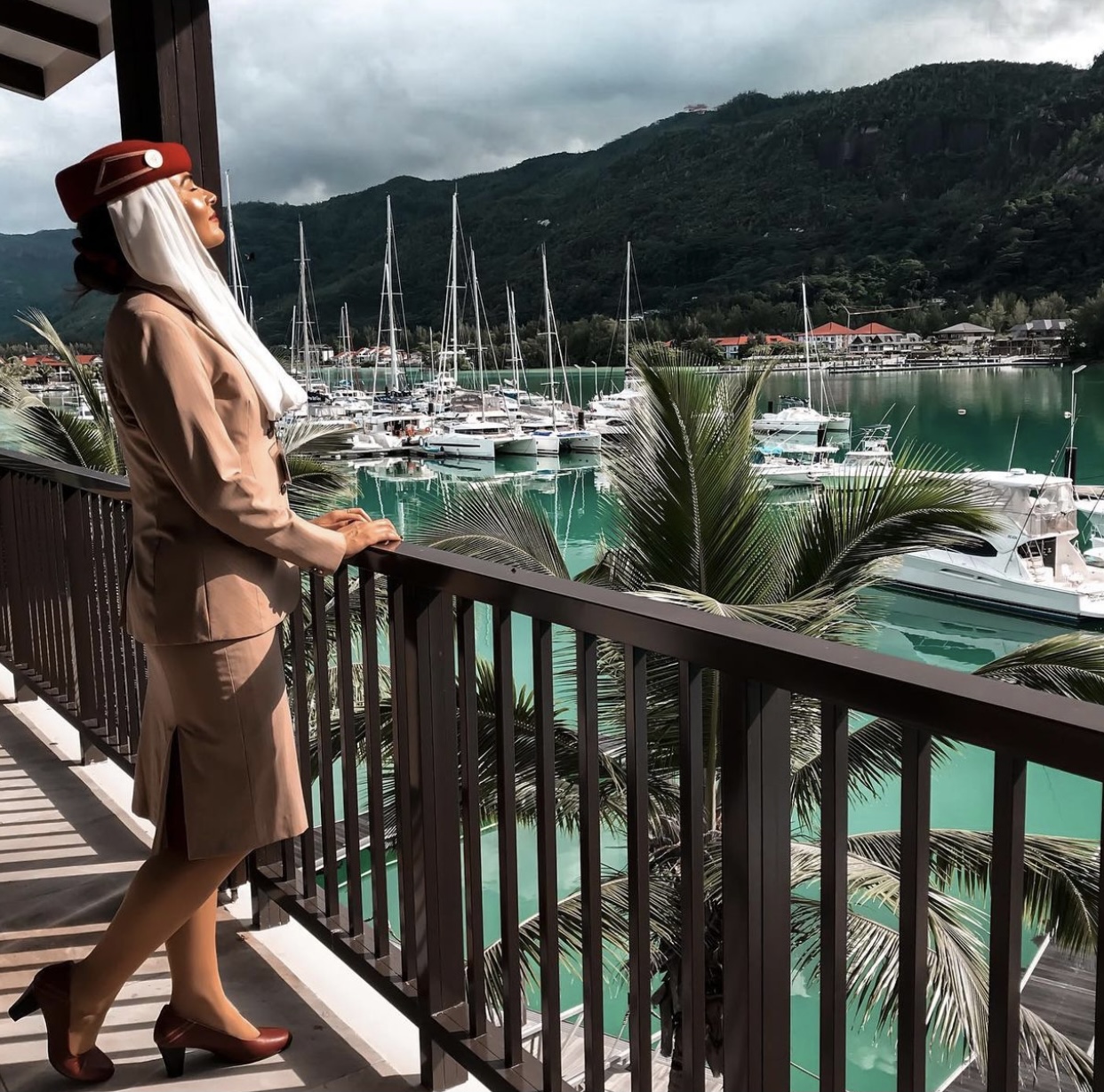 @lucarhart Instagram.
Speaking on the pandemic, Lucy said "I was on a 50 per cent basic salary reduction, which was only £400 a month to live on in one of the most expensive cities in the world, which was really difficult. As a result, I came back to England and got a job in a restaurant where I used to work when I was a student."  
 Emirates have taken an applaudable approach to the pandemic with over 35,000 of their staff vaccinated.  While Emirates may have handled the pandemic well providing staff with sufficient PPE, Lucy describes that: "I definitely feel like there needs to be a lot more support for cabin crew. I feel like we live in a little bubble like my whole life is based out here, all my friends are out here so if I go back home, I'm effectively going to be leaving everything I have out here." 
 Lucy battled through the pandemic at 36,000ft but says: "We were well protected in terms of PPE, but I did end up getting COVID. We wore masks, visors, gloves and had strict social distancing measures in place in the cabin." PPE is the new norm and a staple when it comes to the uniform.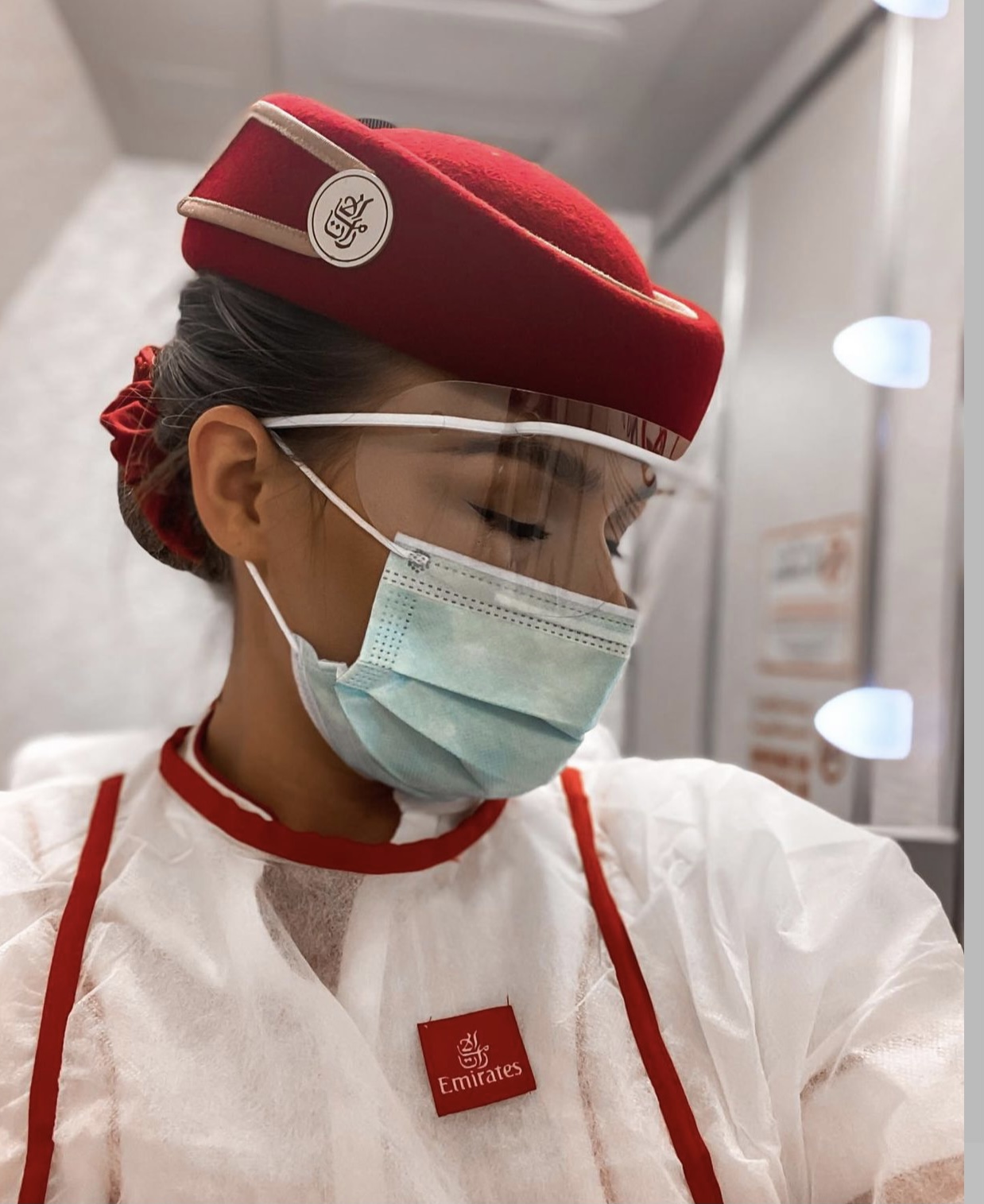 Despite the negatives of caching COVID and being stuck indoors, every cloud has its silver lining and Lucy did benefit at first with seeing family- something that doesn't happen often with the flight attendant lifestyle. Lucy said "The pandemic affected me positive at first, I flew back home and spent time with family and isolated there. It was nice to see family again as I don't get to see them often." 
While many ex-cabin crew have gone on to retrain and enter a different profession, Lucy is patiently awaiting the day she takes to the skies again.  Despite having a degree in Childhood studies under her belt, Lucy says: "I definitely want to return to my job after COVID.  I do worry about the future because I don't know what I want to do when I finish and go back to the UK; I don't want to be a teacher. I have thought about therapy but I really don't know, and I'm in a dilemma on whether to stay and enjoy myself out here or whether to come back and start my career in the UK." 
It has now been over a year since the first lockdown was introduced, however, it is still a long flight to normality. The pandemic has taken its toll on each and every airline, with airports like the scene of a zombie apocalypse. Stansted Airport is the fourth busiest airport in the UK, and usually welcomes around 27 million passengers annually.  However, over the Easter weekend; which is usually a very busy time for holidays, Stansted Airport was eerily empty. Departure desks were deserted, and security queues were nonexistent. It was revealed by Manchester Airport Group (MAG ) that passenger numbers at Stansted are down by 95 per cent. 
The departure board at Stansted revealing just eight departing flights in one day. 
The International Air Transport Association (IATA) estimated in 2020 that the global aviation industry would lose a staggering £250 billion, and this year in 2021 they are expected to lose around £48 billion. However, due to a slower than anticipated vaccination rollout, it is now predicted that airlines will lose another £10 billion than previously expected. Regardless, IATA predicts that an estimated 2.4 billion people will travel by air worldwide in 2021. 
 As it stands, holidays are still banned with the only trips permitted leaving the country are those on business trips or with permitted reason. Then upon arrival back to the UK, a COVID test is needed, to have been taken three days before departure. It is currently hoped that foreign holidays may be able to resume from May 17. It was confirmed earlier this month by the government's Global Travel Taskforce that countries will be divided between green, amber and red destinations. Although very little clarity has actually been provided to the aviation industry with full details expected by May 1 at the latest.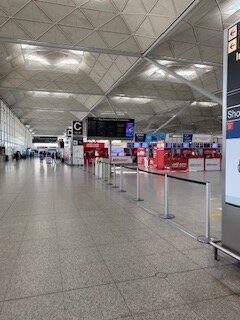 Michael O'Leary, CEO of Ryanair has high hopes for the summer, and is optimistic that holidays may resume from June because of the strong vaccination rollout across Europe. When speaking to Financial Times, he said that bookings had risen in the past two to three weeks from 400,000 to 700,000. Although this is a big increase, this is still only at 30 per cent of usual levels. 
Millie Rutherford is a 20 year old travel enthusiast who dreams of her next departure date. She previously worked in the travel industry as cabin crew for Thomas Cook before they collapsed back in 2019. "My heart bleeds for the aviation industry, I am hoping to return to cabin crew as soon as the pandemic is over, it is such an amazing industry". 
While Brits eagerly await May 1 for some holiday clarity, they are free to enjoy our own Great British hotspots.